​CCTV footage of LAPD gunning down homeless man released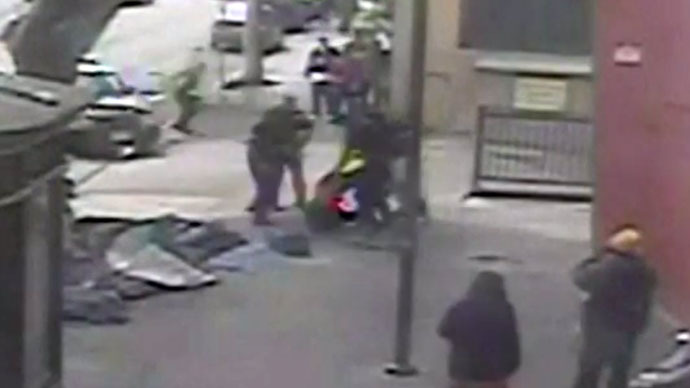 A new video recording the fatal shooting of a homeless man by LAPD officers on Skid Row has been released. The shooting was the result of a struggle over one of the officer's guns, police say.
This is the second video documenting Sunday's deadly confrontation. It was released by the Union Rescue Mission emergency homeless shelter and was shot by a security camera about 75 feet (23 meters) from the incident.
The footage shows several police officers scuffling with a couple of figures. After two officers drag one person away, the others wrestle the second struggling figure to the ground.
READ MORE: Protests over LAPD fatally shooting mentally ill homeless man
Police say they were responding to a robbery report. They said on Twitter they attempted to subdue the man, known only by his street name of Africa, with a Taser but it was ineffective as the victim continued to resist. They also said the man attempted to reach for an officer's handgun during the altercation. Africa was declared dead shortly after being taken to a local hospital.
The man had allegedly recently been released after spending 10 years in a psychiatric facility.
One witness described the shooting: "There was [sic] enough officers around, they could have contained this man. Mentally ill, or not. If they can't contain one person, then there's something wrong with them. Brute, unnecessary force is what happened."
Civil rights activists have called for a hearing on the use of lethal force around Skid Row, following recent reports of escalating violence between law enforcement and local residents.
You can share this story on social media: