Oysters, crabs & clams under threat from CO2 along East Coast – study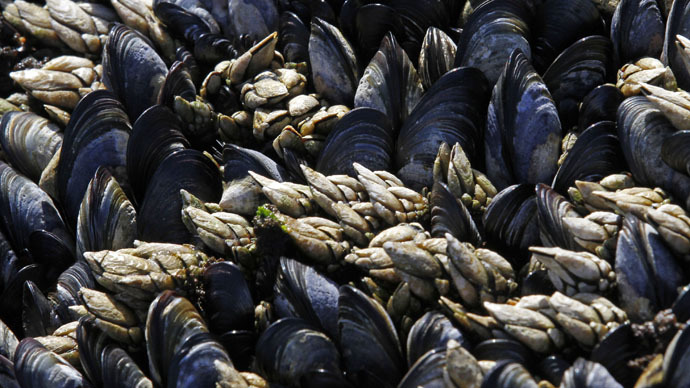 Ocean acidification and agricultural runoff may lead to shelled mollusks drastically dropping down in number, according to a new study. This poses a threat to businesses in coastal communities from Maine to the Chesapeake Bay, to the Louisiana bayou.
'Vulnerability and adaptation of US shellfisheries to ocean acidification (OA)' is the first nationwide study to consider physical factors along with economic and social data in 23 coastal communities. It was published in the scientific journal 'Nature Climate Change' on Monday.
READ MORE:Mercury levels on the rise in Hawaiian yellowfin tuna
Shellfish make up a lucrative business in the US, bringing in $1 billion annually. OA is the result of oceans absorbing the growing amounts of carbon dioxide produced by burning fossil fuels. Acidifying waters disturb the thermodynamic stability of the ocean, making it more difficult for creatures with calcium carbonate shells or skeletons to grow their shells and survive.
"Ocean acidification has already cost the oyster industry in the Pacific Northwest nearly $110 million an jeopardized about 3,200 jobs," said Julie Ekstrom, director of the Climate Adaptation Program at the University of California Davis Policy Institute and lead author of the study. "Our research shows, for the first time, that many communities around the US face similar risks."
Ocean acidification already killing oysters in Oregon and Washington. Much worse to come. http://t.co/oqYA9MOjVD … pic.twitter.com/XHN0Mvga9v

— Tim Ream (@ourcarbon) February 24, 2015
In the southern Massachusetts fishery alone, shellfish make up a $300 million per year industry, with the state giving out 1,350 commercial fishing licenses annually.
Risks are increased in communities that rely on shell-fishing for their revenue, and where a lack of diversity in employment could make it difficult for the region to adapt or cope with change.
"It will pinch pocketbooks, it will put livelihoods at risk, and it will alter the fabric of communities all across the country," Lisa Suatoni, a senior scientist with the Natural Resources Defense Council (NRDC) Oceans Program, said in a statement.
READ MORE:Mass extinction for Earth's oceans probable, comprehensive study says
States such as Massachusetts, New Jersey, Virginia, and Louisiana are particularly vulnerable – not just because of their economic dependency on shell-fishing, but because they lack research and monitoring for ocean acidification, and government funds to help study the risks.
Oceans can absorb about 30 percent of carbon dioxide in the atmosphere. However, increased air pollution from a century of burning fossil fuels has increased CO2 levels in the atmosphere. This has tilted the balance of CO2 in oceans, making them more acidic.
Rising sewage and chemical waste released into rivers that empty into oceans spur algae populations to bloom. Marine life can consume algae, but when it is out of proportion it decomposes and releases CO2 into the water, thereby increasing pH levels.
This map shows where your state's oysters are in trouble #oceanacidificationhttp://t.co/HVYTXFzKN9pic.twitter.com/1lvsMFqJ3f

— Earthjustice (@Earthjustice) February 23, 2015
The study not only looked at the contribution of carbon dioxide to acidification, but also the contribution of nutrient pollution from agricultural runoff. Agricultural runoff – or nitrogen pollution – travels through river waters to the oceans, leading to algae blooms which exacerbate ocean acidification.
READ MORE:Satellite images to monitor ocean acidification in remote areas from space
The research found that East Coast estuaries such as the Chesapeake Bay, Narragansett Bay, and Long Island Sound had an abundance of nitrogen pollution. In the Gulf of Mexico – where the shelled mollusk industry is limited to oysters – there were few options for seeking an alternative shellfish in the short-term.
The study does provide solutions. It recommends reducing agricultural pollutants in the Chesapeake Bay, diversification of fishing fleets and investment in aquaculture in southern Massachusetts, development of early warning systems in the Pacific Northwest, and the cultivation of acidification-resistant strains of oysters in the Gulf of Mexico.
You can share this story on social media: