High on the Hill? House bills want to legalize, tax recreational marijuana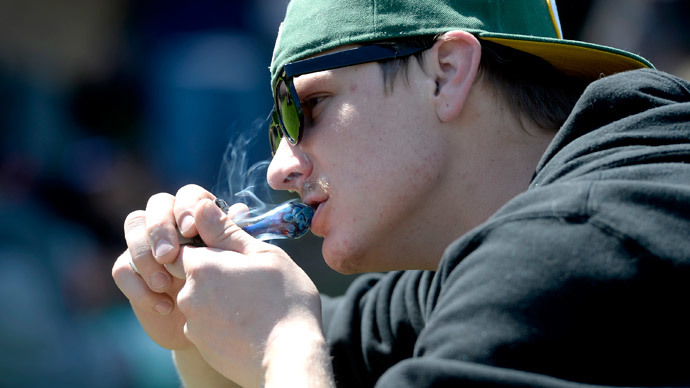 Two newly introduced bills in the US House of Representatives are looking to legalize the use of recreational marijuana and tax it like other drugs such as alcohol and tobacco.
The Regulate Marijuana Like Alcohol Act was reintroduced on Friday by its sponsor Rep. Jared Polis (D-Colo.). If passed, the measure would remove marijuana from the list of federally banned "Schedule 1" drugs. In this category, marijuana is considered the same as heroin and cocaine.
BREAKING NEWS:TWO HOUSE BILLS FILED IN THE HOUSE TO END THE FEDERAL PROHIBITION! REGULATE MARIJUANA LIKE ALCOHOL ACT! pic.twitter.com/KrtSjpjqLU

— The Art of MaryJane (@artofmaryjane) February 20, 2015
At the same time, the Marijuana Tax Revenue Act, a companion bill, was introduced by sponsor Rep. Earl Blumenauer (D-Ore.) and would establish a federal tax structure for recreational pot use. Both bill sponsors are from states where marijuana has been legalized via ballot initiatives and can be used for recreational purposes.
"It's not just the people who use marijuana, but a lot of other people are recognizing that it's insane to shuffle billions of dollars to Mexican drug cartels when we could just be taxing it," Blumenauer told The Hill.
READ MORE: Vermont could be first state to legalize marijuana via legislation
The bill would first tax marijuana at 10 percent "of the price for which [it's] sold," though that number would eventually rise to 25 percent. Estimates are that the federal government could make $10 billion annually between collecting taxes on the drug and saving money by not arresting people, arraigning them and imprisoning them for marijuana possession.
"It is time for us to replace the failed prohibition with a regulatory system that works and let states and municipalities decide for themselves if they want, or don't want, to have legal marijuana within their borders," Polis said in a statement.
Two *different* house bills introduced in Congress to legalize marijuana. Unlikely to pass but continues momentum http://t.co/x2zc2R0iZw

— Mark Johnson (@philosophygeek) February 20, 2015
While the bill was presented on Friday when lawmakers were on recess and failed to gain traction in the last Congress, Blumenauer thinks politics towards marijuana are changing and Republicans are becoming more supportive.
READ MORE:Pot-induced munchies for real: Marijuana fools brain hunger switch, study reveals
Marijuana advocates like Dan Riffle, the director of federal policies for the Marijuana Policy Project, also told The Hill that "It's time for our federal representatives to come to grips with the fact that marijuana is safer than alcohol and most people think it should be treated that way."
You can share this story on social media: