Oil train derailment in W. Virginia highlights faults in railway safety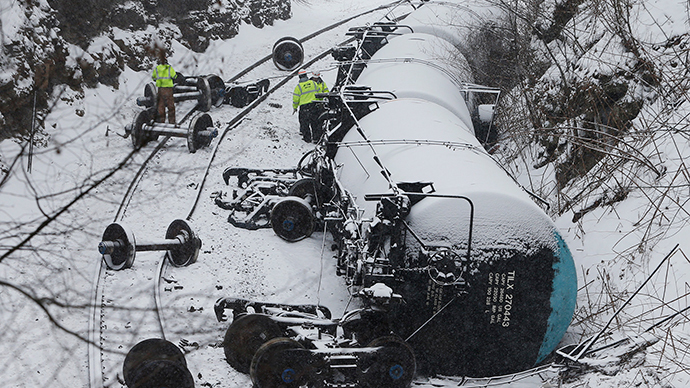 A train carrying millions of pounds of crude oil derailed Monday in West Virginia, burning through the night, marking the latest major rail accident involving hazardous crude. Since July 2013, 11 major oil-train derailments have occurred in North America.
The derailment in Fayette County led to the evacuation of the towns of Adena Village and Boomer Bottom, according to reports. The CSX train consisted of 109 tanker cars and two locomotives, with as many as 25 cars jumping off the tracks amid a snowstorm, according to the Charleston Gazette. At least 14 cars ignited, said Jennifer Sayre, the Kanawha County manager.
READ MORE: Evacuation ordered as train with crude oil derails in W. Virginia
One car ended up in a tributary at its confluence with the Kanawha River, while another car rammed into a house, bursting into flames, according to Lawrence Messina, communications director for the West Virginia Department of Military Affairs and Public Safety. One person was treated for an inhalation-related injury, CSX reported.
The train was carrying oil from the Bakken Shale in North Dakota to a refinery in Yorktown, Virginia, Chris Stadelman, spokesman for Gov. Earl Ray Tomblin, told the Gazette. Kelley Gillenwater, a spokeswoman for the state's Department of Environmental Protection, said the train had "crude oil and possibly other materials."
BREAKING: Train with chemicals derails in West Virginia, evacuations underway - local media report (pic @arothfield) pic.twitter.com/RcYOhgyNX7

— RT (@RT_com) February 16, 2015
Gov. Tomblin declared a State of Emergency for Kanawha and Fayette counties on Monday evening.
"Declaring a State of Emergency ensures that residents of both Kanawha and Fayette counties have the access they need to resources necessary to handle all stages of the emergency," Tomblin said in a news release. "State officials are on site and will continue to work with local and federal officials, as well as CSX representatives, throughout the incident."
DEVELOPING: Crude oil leaking into Kanawha River in W. Virginia after train derailment http://t.co/NrWNbxXttwpic.twitter.com/oEzKvIWhoD

— RT (@RT_com) February 16, 2015
After the accident, CSX tweeted that it was "working with first responders on the scene to ensure the safety of the community."
In a later statement, the company said it would team up with relief organizations "to address residents' needs, taking into account winter storm conditions."
About 800 homes in Fayette County were without power Monday evening, and water was turned off in some communities given oil had leaked into water supply, according to the state Department of Health and Human Resources.
A water treatment plant in Montgomery was shut down, affecting as many as 6,000 people, according to West Virginia American Water spokeswoman Laura Jordan.
Initial reports said oil and other contaminants had reached the Kanawha River, the source of drinking water for many state residents. Jordan later said emergency responders believed the oil was contained in the river's tributary, Armstrong Creek.
"If there is clear confirmation from responders that crude oil and other potential contaminants resulting from the accident did not reach the Kanawha River, the West Virginia Bureau for Public Health has given us permission to restart the Montgomery plant," West Virginia American Water said in a statement.
One year ago, multiple spills consisting of thousands of gallons of coal-cleaning chemicals leaked into West Virginia's Elk River, another tributary of the Kanawha River, leaving hundreds of thousands of people without running water for weeks.
Train safety
The spill underscores the risks that come with the current oil and gas boom in North America. Within the last two years, there have been at least 11 major derailments in the US and Canada that involved trains carrying immense amounts of oil, according to a December 2014 report by the US Congressional Research Service.
From 2006 to April 2014, there were 16 high-profile accidents involving "high-hazard" trains carrying crude or ethanol, according to the US National Transportation Safety Board. In all, 281 tank cars have derailed, spilling nearly 5 million gallons of crude or ethanol, all resulting in 48 fatalities, Reuters reported.
According to the National Transportation Safety Board, DOT-111 tank cars that carry crude and ethanol are not adequately equipped to carry flammable materials, and there is no requirement for the cars to have thermal protection against fire hazards.
Major water concerns in train explosion http://t.co/KhfOZc4sq9 echo 2014 crisis http://t.co/R2xzZZRKRi#WVderailpic.twitter.com/wOfzK6MCt4

— MRBF (@mrbf_org) February 17, 2015
Efforts to address shipment safety are wrapped up in a fight over whether crude should be considered highly flammable or not, in addition to the questions over the future of DOT-111 cars.
Liability issues have also hampered safety. Currently, common-carrier railroads must accept any cars that are of an approved design – such as the DOT-111 – all while they must assume the risk. Shippers, on the other hand, are free of liability burdens.
An ethanol train derailment in northeastern Iowa last week again highlighted the need for increased safety measures, legislators said.
"Derailments like these make it clear the federal government needs tougher standards to prevent these accidents near populated areas," Minnesota Senate Transportation Chairman Scott Dibble said, according to the Red Wing Republican Eagle. "We must immediately begin to phase out and ban the substandard and dangerous DOT-111 train cars."
States near the energy boom are concerned as more and more oil and other materials coming from North Dakota and Canada. The Minnesota Public Safety Department recently released a report that said the state's first responders don't feel like they have adequate training to deal with derailments that spill hazardous materials.
"Train derailments are almost becoming a part of everyday life, and it is unacceptable," Minnesota state Rep. Frank Hornstein said, according to the Red Wing Republican Eagle. "Many of these trains travel through our state, and Minnesotans should not have to worry about the possibility of them derailing and possibly exploding. We are lucky this didn't happen in an area like Moorhead, New Hope, Red Wing or any community with a rail line."
In addition to train derailments that have felled toxic contaminants, there has been an uptick so far this year in other energy-development disasters, as RT has reported.
In North Dakota, three millions of gallons of saltwater brine, a byproduct of hydraulic fracking, spilled in January from a ruptured pipeline near the Missouri River. A line in West Virginia transporting ethane exploded, and 40,000 gallons of oil spilled into the Yellowstone River from a ruptured pipeline in Montana. A natural gas pipeline exploded in Mississippi, and a second North Dakota incident set loose 20,000 gallons of brine.
You can share this story on social media: