Craig Hicks indicted for triple homicide in shooting of Muslim students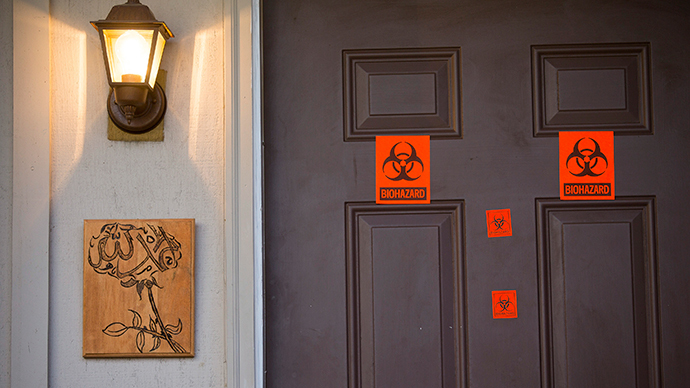 A grand jury in North Carolina has indicted Craig Stephen Hicks on three counts of murder and one count of discharging a firearm into an occupied dwelling, a court official said, for last week's fatal shooting of three Muslim students in Chapel Hill.
The indictment was announced Monday morning, according to local television stations WRAL and WTVD. Deah Barakat, his wife Yusor Abu-Salha and her sister Razan Abu-Salha were gunned down last Tuesday in a condo about two miles from the University of North Carolina in Chapel Hill.
READ MORE:1,000 march in Qatar over Muslim students' US murder by white neighbor
Hicks, 46, was their neighbor and turned himself over to police after the shooting. He remains in jail without bond, and questions about his motive have swirled. Hicks had a history of posting anti-religious messages on social media.
"The case is still being investigated regarding any further charges and or possible motives," said Durham District Attorney Roger Echols, according to the Associated Press. "No determination has been made on the death penalty."
#BREAKING Craig Hicks indicted 3 cts of murder in #ChapeHillShooting#wralpic.twitter.com/KoeArYIKvM

— Julia Sims (@WRALJulia) February 16, 2015
The triple murders have received international condemnation, but while police say there's no indication yet that Hicks' actions were spurred by racism or anti-religious motives, the families of the students have called the murders a hate crime.
"This was execution style," said Mohammad Abu-Salha, the father of Yusor and Razan. "This was a hate crime from a neighbor our children spoke about."
READ MORE:Chapel Hill victims' brother: Shooter had harassed Muslim couple, 'brandished' gun at them
Yusor and Razan's brother, Yusef Abu-Salha, also told RT last week that there had been a lot of tension between his sisters and Hicks.
"There were plenty of run-ins [with Hicks]," he said, "but the run-ins escalated when my sister moved in; she obviously wore the head scarf. I recall her telling me when she first went to visit the condo before she even moved in together, [Hicks] came and knocked on the door and told them they were making too much noise, and he brandished a gun at his waist."
"I consider that terror," he added, "I consider that hate."
Legal experts said that for federal hate-crime charges to be brought and prosecuted, religious bias must be the motivating factor, not just one of many. Investigators said initial findings indicated a dispute over parking prompted the shootings, but they are looking into whether Hicks was motivated by hatred because the students were Muslim.
Hicks' wife, Karen said the parking dispute was at the heart of the matter.
"I can say with an absolute belief that this incident had nothing to do with religion of the victims' faith but it was related to longstanding dispute that my husband had with the neighbors," she said.
Grand jury indicts Craig Hicks on 3 counts of murder in #ChapelHillShootinghttp://t.co/BigwpXeXGwpic.twitter.com/eebvwxoPw4

— Daily Mail US (@DailyMail) February 16, 2015
Neighbors, as well as tow-truck driver and others, have said Hicks often complained about residents and visitors at Finley Forest parking in his reserved space. He called one tow truck company so often they stopped responding to his calls.
READ MORE:Family of slain Muslims calls Chapel Hill shooting 'absolutely… domestic terrorism'
The FBI has opened its own preliminary inquiry into the incident but has not specified whether it considers the shooting a hate crime.
Hicks, who was a paralegal student, is expected to make his first appearance after the grand jury indictment in Superior Court on March 2.
You can share this story on social media: