Chapel Hill victims' brother: Shooter had harassed Muslim couple, 'brandished' gun at them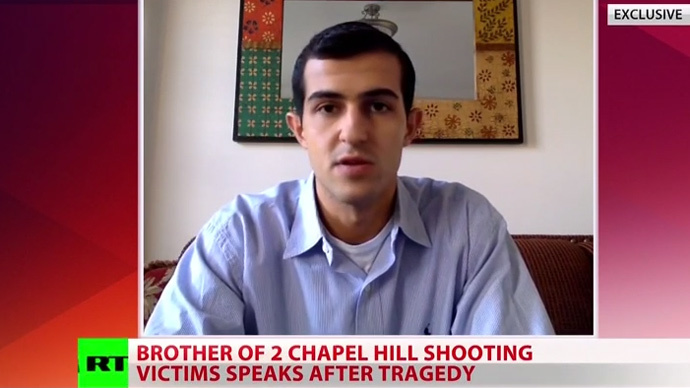 The three Muslim students killed in Chapel Hill, North Carolina had "plenty of run-ins" with the man charged with shooting them. The man, who stored 13 firearms at home, had threatened the victims with a gun, the brother of two of the deceased told RT.
In an interview with RT, Yousef Abu-Salha, the brother of two of the Chapel Hill shooting victims, said there was a lot of tension between the family and accused shooter Craig Stephen Hicks, which only grew after one of Yousef's sisters, Yusor MohammadAbu-Salha, moved in with her husband, Deah Shaddy Barakat.
"There were plenty of run-ins [with Hicks]," he said, "but the run-ins escalated when my sister moved in; she obviously wore the head scarf. I recall her telling me when she first went to visit the condo before she even moved in together, [Hicks] came and knocked on the door and told them they were making too much noise, and he brandished a gun at his waist."
"I consider that terror," he added, "I consider that hate."
Both Yusor and Deah were killed Wednesday, along with Yusor's sister, Razan Mohammad Abu-Salha. The family has been outspoken in its belief that the shooting was a hate crime, and a spokesperson called the incident "domestic terrorism."
Despite the tension, Yousef said his family treated Hicks "with kindness and they sympathized with him." The brother also dismissed the possibility that the shooting occurred as a result of a parking lot dispute, which police and Hicks' wife have highlighted as a possibility.
READ MORE:Family of slain Muslims calls Chapel Hill shooting 'absolutely… domestic terrorism'
"It wasn't only about parking spots," he said, "[Hicks] would find any reason to harass them. The day they were tragically taken away from us, no-one was parked in his spot that he used to make a fuss about."
These comments come as police searching Hicks' home found at least 13 firearms – including two shotguns, six rifles and numerous loaded magazines and cases of ammunition, according to the Associated Press. Eight shell casings were in the apartment of the victims, but authorities have not disclosed exactly how the three died. Relatives say they were all shot in the head.
On Friday, President Barack Obama released a statement saying the FBI has opened a parallel inquiry into the "brutal and outrageous murders" in Chapel Hill alongside the local police investigation. The FBI will determine whether federal laws were violated.
"No one in the United States of America should ever be targeted because of who they are, what they look like, or how they worship," Obama said. "As we saw with the overwhelming presence at the funeral of these young Americans, we are all one American family."
"Whenever anyone is taken from us before their time, we remember how they lived their lives – and the words of one of the victims should inspire the way we live ours."
READ MORE:Hate crimes against Muslims in US have skyrocketed during 'war on terror'
UN Secretary General Ban Ki-moon was also "deeply moved" by scenes of thousands gathering in North Carolina for the funeral of the three students, his spokesperson said.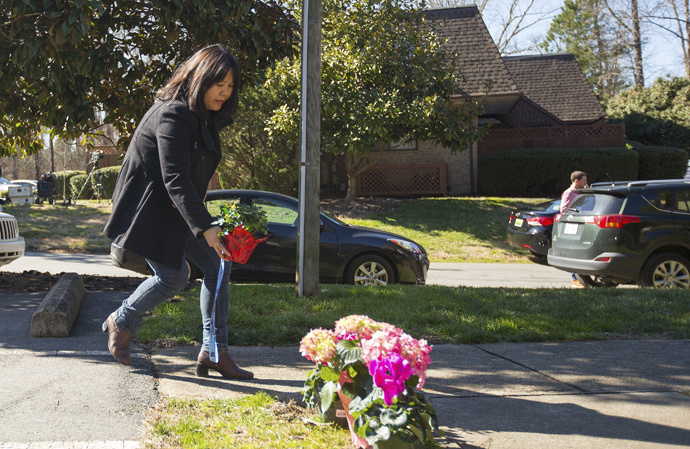 Police said they have yet to uncover any evidence Hicks acted out of religious animus, though they are investigating the possibility. Hicks had frequently posted anti-religious comments on his Facebook page. As a possible motive, however, they did cite a long-standing dispute over parking spaces at the condo community.
Hicks has been charged with three counts of first-degree murder.
Legal experts say prosecutors will have to show Hicks deliberately targeted those killed because of religion, race or national origin in order to convict him of a hate crime. In North Carolina there is no statute specifying "hate crimes," but there are laws for acts such as "ethnic intimidation," which could include hanging a noose, burning a cross or setting fire to a church.
READ MORE:'This was hate crime' not parking dispute – family of slain Chapel Hill Muslims
Reflecting on the lives of his sisters, Youself Abu-Salha said they "were perfect," and that "growing up with them was truly a blessing."
"We are peaceful and that is what our faith preaches," he told RT. "We don't seek vengeance. We treat our enemies with kindness," he said. "But we would like this crime to be labeled as it should be because that is the only way we can seek justice and solitude in everything that has happened. It is what they deserve."
"We stand in solidarity and we sympathize with all the minorities recently, and all that has been going on in the world. We call it an injustice when we see it. We call it oppression when we see it. And we really need this right now."
You can share this story on social media: