Social media, internet stealing valuable sleep time from US teens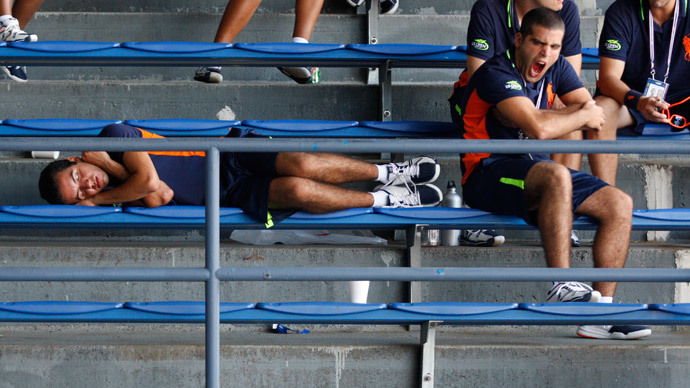 Large numbers of US teenagers are sleep-deprived, with girls, racial or ethnic minorities and students of lower socioeconomic status said to be particularly affected, according to the first major evaluation of sleep trends for American teens.
The study involved over 270,000 adolescents from the eighth, 10th and 12th grades asked in 1991-2012 surveys how often they got seven or more hours of sleep.
While nine hours is a standard recommended by the National Sleep Foundation, many teens are less likely to regularly get even seven or more hours of sleep nightly compared with their non-Hispanic counterparts and students of higher socioeconomic status. Inadequate sleep is meanwhile associated with a wide range of health problems including mental health issues and weight gain, to name a few.

The largest decrease in the percentage getting seven hours of sleep nightly was for kids aged 15, with 72 percent reporting regularly getting seven-plus hours of sleep per night back in 1991 versus 63 percent in 2012, a study by researchers at Columbia University's Mailman School of Public Health has found.
The Great Sleep Recession: Changes in Sleep Duration Among US Teens, 1991–2012 http://t.co/BikX1BXcwz

— Psiquiatria Infantil (@PsiqInfantil) February 16, 2015
Racial and ethnic minorities and those whose parents had little formal education responded that they were less likely to regularly receive seven or more hours of sleep. However, they were more likely to report getting adequate sleep, suggesting a mismatch between actual sleep and illusions of adequate sleep.

"This finding implies that minority and low socioeconomic status adolescents are less accurately judging the adequacy of the sleep they are getting," assistant professor of Epidemiology at the Mailman School of Public Health and lead author, Katherine W. Keyes, explained.
READ MORE: Sleep therapy: Short daytime nap compensates for poor night's rest, study says

While reasons for the decreases in hours of sleep are unknown, factors that might have contributed include "increased Internet and social media use and pressures due to the heightened competitiveness of the college admissions process," Dr. Keyes noted, adding that declines in self-reported adolescent sleep across the last two decades are "concerning." Among key factors to blame, according to Dr. Keyes, is increasing use of social media, smartphones and other electronic devices teens get hooked on. Other research has suggested that early school start times also play a role with some pushing for later times for teens.

The researchers say that improving teens' understanding of how much sleep they really need, and the negative effects of not getting enough, could help change things for the better.

Findings from "The Great Sleep Recession: Changes in Sleep Duration Among US Adolescents, 1991-2012" are published online in Pediatrics.
You can share this story on social media: