Sleep therapy: Short daytime nap compensates for poor night's rest, study says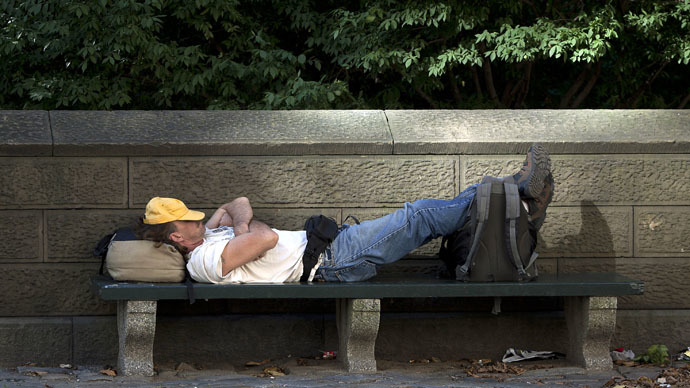 A half-hour daytime nap can mitigate the hormonal impact of two hours' sleep at night not only making a person refreshed, but strengthening the immune system and relieving stress, new research says.
"Our data suggests a 30-minute nap can reverse the hormonal impact of a night of poor sleep," Brice Faraut, of Paris Descartes University, one of the research's authors, said in a statement. "This is the first study that found napping could restore biomarkers of neuroendocrine and immune health to normal levels. Napping may offer a way to counter the damaging effects of sleep restriction by helping the immune and neuroendocrine systems to recover."
The study was published in the Endocrine Society's Journal of Clinical Endocrinology & Metabolism.
READ MORE: Shift work responsible for 'dementia-like' brain damage – report
According to the separate National Health Interview Survey, nearly three in 10 adults sleep an average six or less hours a night.
The scientists carried out experiments with a group of 11 healthy men, all between 25 and 32 years old, who underwent two sessions of three days sleep testing. In one of the sessions they had only two hours to sleep at night, while during another session they were permitted to have a couple of 30 minutes naps during the day.
All the participants had slept eight hours before the experiment and the time for sleep was not limited on the last day.
The analyses of urine and saliva of those who slept two hours only showed a high level of a hormone involved in stress reactions –norepinephrine – which increases blood pressure and blood sugar and a low level of antiviral protein – interleukin-6. In case when short naps were allowed, the levels of both norepinephrine and interleukin-6 were normal.
"The findings support the development of practical strategies for addressing chronically sleep-deprived populations, such as night and shift workers," Faraut said.
Sleep deprivation is now widely recognized as a serious problem. It can cause problems for workers' productivity, and also provoke dangerous situations in spheres demanding closer attention, for instance in transportation. Moreover, it aggravates chronic illnesses including obesity, hypertension and diabetes and even depression.
READ MORE: Woman working 4 jobs to make ends meet dies while napping in car between shifts
Last year, similar research showed napping was beneficial for memory retention. Schoolchildren who napped after learning retained more of what they had learned up to five days later, compared to those who did not sleep during the day.
"The results suggest that sleep can be used to enhance the duration of memory contents learned in school," the authors wrote in their study.
You can share this story on social media: