Fire at Texas Islamic center involved accelerant, hate crime a possibility?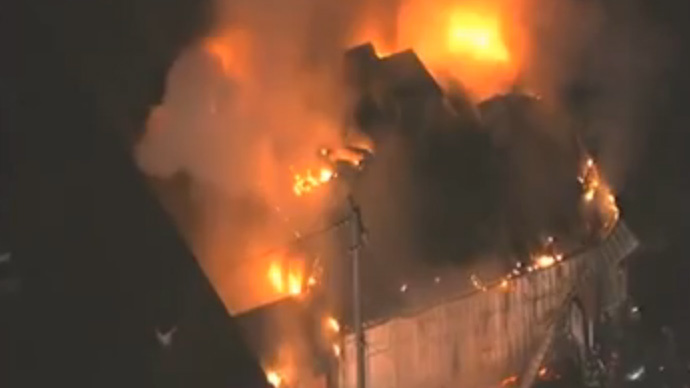 A building at an Islamic institute in Houston, Texas burst into flames shortly before members began arriving for morning prayers at the campus' mosque. Investigators are trying to determine whether arson is to blame, noting an accelerant was used.
The fire broke out in a vacant building on the Quba Islamic Institute campus in southeast Houston early Friday morning. Heavy smoke filled the air as flames flared from the roof. According to local 13 Eyewitness News, fire officials have determined that an accelerant was used to hasten the fire's growth – something that often means it was ignited intentionally.
Following this news, the Council on American-Islamic Relations urged authorities to look into the fire as a potential hate crime. Investigators are still unsure of what started the fire in the first place.
Fire engulfs Islamic Institute in Houston | RAW Video http://t.co/5g1GXpZao3

— Breaking News (@NewsChannelOne) February 13, 2015
Kenyatta Parker, a spokesman for the Houston Fire Department, said up to 25 firefighters responded to the 5:35 a.m. alarm, extinguishing the flames by 6:20 a.m.
"We got it before it got out of control," Parker said. No injuries were reported, he told the Los Angeles Times.
The institute had recently bought the building, and was planning to turn it into a community center and a place for children to study Islam, Zahid Abdullah, the mosque's imam, told KHOU.
Quba Islamic Institute in Houston on fire. Here's a picture yesterday of its students shooting hoops. pic.twitter.com/Q8YtHaQ6b9

— Zaid Jilani (@ZaidJilani) February 13, 2015
When asked about a potential cause for the blaze, Parker replied, "We have no idea yet."
This early in the investigation, officials have no reason to believe the fire was intentionally set, Parker said.
But members of the Islamic center said that arson is suspected.
Ahsan Zahid, the 25-year-old son of Quba's imam, told the Houston Chronicle that arson investigators with the Houston Fire Department told him that an accelerant was used in the fire.
There are currently two working theories that are being pursued, Zahid said: Either the fire was started to intentionally damage the building or it was started by a homeless person who broke into the building because of the cold.
Update: Arson suspected in fire at Islamic school. http://t.co/pi6HBMkqyG#hounews by @DaleLezonpic.twitter.com/K00KE8XDOa

— Houston Chronicle (@HoustonChron) February 13, 2015
Prayers were set to begin at the institute at 6:15 a.m., as they do every day, according to the Quba website. Firefighters turned members away from the mosque.
"It says right on the sign Quba Islamic institute. We are not hiding ourselves," Hala Saadeh, a mosque member, told KHOU, wondering if the fire was started deliberately.
"A lot of people think like that, but like I said we don't know yet. Nobody knows actually. So once they clear here, we will find out," said another mosque member.
Zahid said he was hopeful that the facility was not a target for hate crime. Leaders there are concerned that they may have been victims of Islamophobia, citing the recent shooting deaths of three Muslims in North Carolina, the Chronicle reported.
Arson investigators are at the scene of a Texas Islamic center that burned down overnight http://t.co/6LhB2kZPTdpic.twitter.com/DjenuhaZ6J

— Talking Points Memo (@TPM) February 13, 2015
Mosque members said that the fire would not deter them.
"We are a strong community, we'll just figure out what to. Build again," Yousuf Silah told KHOU.
Local arson investigators and agents with the Bureau of Alcohol, Tobacco and Firearms were at the scene to gather evidence and determine the cause.
You can share this story on social media: