Mexico condemns shooting of man by Washington State cops for throwing rocks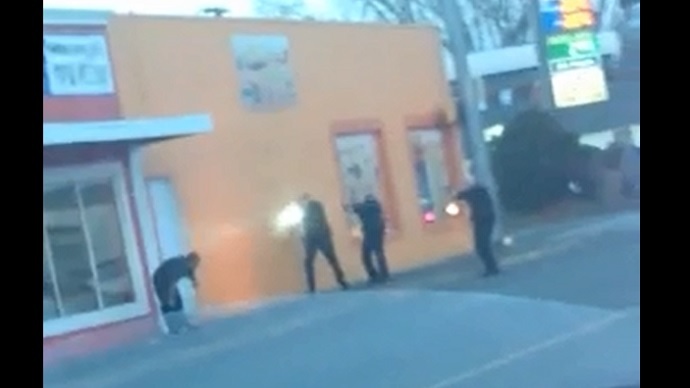 Mexico is criticizing the shooting death of a man accused of hurling rocks at police officers, as the local coroner considers opening a rare inquest jury into the case. Protests have grown in the small Washington city since the incident.
Police arrived at a busy intersection in downtown Pasco during rush hour Tuesday evening after being alerted that a man had been lobbing rocks at nearby vehicles. When the cops approached the man ‒ later identified as 35-year-old Antonio Zambrano-Montes ‒ he threw at least one "softball size" rock at the officers and then ignored their orders to put down the rest of his projectiles, prompting the police to deploy their Taser stun-guns "with no effect on the subject," according to the department's chief and eyewitness accounts. At least two officers were injured by the rocks, according to the Seattle Times, and were treated at the scene.
READ MORE:Man shot dead by police in Washington State after throwing rocks (VIDEO)
Video footage from the incident shows the victim fleeing on foot from three Pasco police officers across the busy intersection with arms akimbo. When the man then turns and faces the cops with his arms in front of him, they open up with a barrage of gunfire ‒ as many as 13 shots, according to some accounts ‒ fatally wounding him.
"I could not believe they were shooting guns. There were cars and people everywhere," Pasco resident Benjamin Patrick told the Times.
"I am really upset about what I saw," Patrick said. "Yes, he was resisting. Yes, he was wrong. But it looked like there might be something wrong with him. And he wasn't hurting anyone. He had a rock, not a gun. It seems it could have been handled differently."
Mexico's Foreign Ministry on Thursday condemned the shooting of the man raised in that country, the Associated Press reported. Zambrano-Montes grew up in Michoacan, Mexico. He had lived in Pasco for about a decade, where more than half the town's 66,000 residents are Hispanic.
Protesters flood #Pasco streets, city hall after deadly shooting http://t.co/nU4pyPGdYC Photos via @ChelsieHaddenpic.twitter.com/qP77rjdzWR

— ThinkMexican (@ThinkMexican) February 13, 2015
The police chief said that the victim's heritage was not a factor in the incident.
"This was really not a racial issue," Pasco Police Chief Bob Metzger told KING.
"He kept on screaming, 'Shoot me, shoot me'," Chris Pirtle, another Pasco resident who witnessed the events unfold, told the Times. "And they just told him to drop the rocks and he just did not want to listen."
Peaceful protests in Pasco shooting. Jesus Coria,16, here w/mom,urging drivers to honk horns. By dozens, they do. pic.twitter.com/WGiPyeEHZJ

— Erik Lacitis (@ErikLacitis) February 13, 2015
The shooting has spawned protests in the days since. About 60 protesters gathered outside the Pasco City Hall Wednesday afternoon, chanting, "We want justice!" in English and Spanish. One sign read, "Stop police brutality! It was rock!" More than 100 people demonstrated that night near the location where the shooting happened, chanting "use your training, not your gun," the Tri-City Herald reported.
Protesters plan to demonstrate again Saturday, according to KNDU-TV. Tuesday's incident marked the fourth fatal officer-involved shooting in Pasco in six months.
Pasco, Washington, police have killed more people than police in Germany & the UK combined http://t.co/nCGbdGAncUpic.twitter.com/ChdBhxL9S5

— Daily Kos (@dailykos) February 12, 2015
Because of the controversy over the shooting, Franklin County Coroner Dan Blasdel is considering convening a rare inquest jury to look into the incident. The coroner's inquest, in which a jury is presented evidence of the shooting, would decide whether the officers were justified in their use of deadly force.
"We don't want another Ferguson here in Pasco," Blasdel told the Times.
Meanwhile, a handful of people showed up at Pasco City Hall on Thursday to support police.
"It's important for these officers to know the entire community is not out to get them," Chris Black, an Army veteran, told the Herald.
Pasco Washington police murder unarmed man. R.I.P. Antonio Zambrono-Montes https://t.co/EwLtTLAjwP

— Kezar Söze (@KezarSoze) February 13, 2015
The three officers involved in this incident are: Officer Ryan Flanagan, a nine-year veteran and traffic safety officer; Officer Adam Wright, an eight-year veteran who is a firearms instructor and field training officer; and Officer Adrian Alaniz, a two-year veteran assigned to patrol.
"In accordance with department policy, the officers have been placed on administrative leave pending the outcome of the investigation," the Pasco Police Department said in a statement. "Upon completion of the SIU investigation, their report will be forwarded to the Franklin County Prosecutors office to be reviewed for any further action. Subsequent to the SIU investigation and prosecutor determination, an internal investigation will be conducted by the department."
Zambrano-Montes did have a history of erratic behavior, according to court documents. He was convicted of assault in 2014 after a confrontation with Pasco police, who had tried to stop him from hitting cars with a broom. He threw a rocking chair and tried to grab an officer's gun from his belt while under the influence of methamphetamine, the Herald reported.
In 2006, Teresa D. Meraz Ruiz filed for a protection order for herself and the couple's two young daughters due to Zambrano-Montes' "volatile behavior," according to court documents.
She said he threatened to kill her many times, physically abused her and pulled a knife and a gun on her during their nine-year relationship. The daughters live in California with their mother.
Zambrano-Montes' family said that he had battled depression after being separated from his daughters, but that they were not aware of any current mental health issues, according to the Herald. He had suffered from a string of bad luck lately, however. In January, he was rescued from a burning house by two city workers, and had also injured himself recently in a fall at work.
Zambrano-Montes was arrested in the past week on a warrant for failing to pay his fine and court costs for his 2014 assault case, appearing Monday in Franklin County Superior Court.
Court records show the victim had no other criminal history aside from that case.
You can share this story on social media: