Job stress 'behind 120,000 American deaths a year'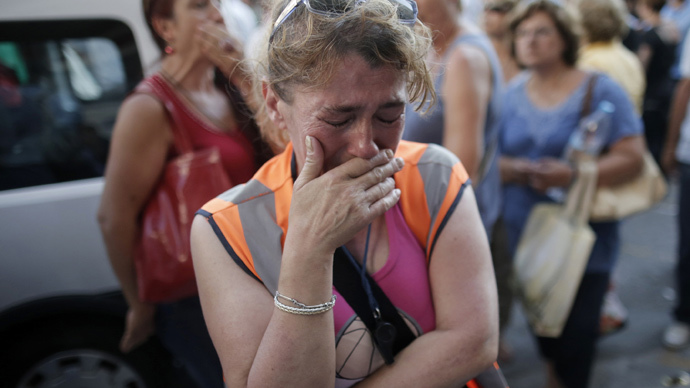 Job stress can be fatal and contribute to the deaths 120,000 Americans a year. It can also lead to hypertension, cardiovascular disease and decreased mental health, a new study argues. It also costs tens of billions of dollars in healthcare.
On the bright side, the study also found that improving management practices could save lives.
The Harvard and Stanford Business School working paper published in the Management Science journal looks at why Americans spend $180 billion every year on healthcare yet experience average or subpar health outcomes compared to the rest of the world.
READ MORE:'Death by overwork': Workaholic Japanese to be forced to take vacation time
The study combined common job stressors – including layoffs and unemployment, lack of health insurance, shift work, long working hours, job insecurity, low organizational justice - with management choices such as long hours, lack of control, job insecurity and perceptions of unfairness in the workplace.
Job stress 'making staff unhealthy' http://t.co/hyN7d0OZKA > and will only get worse if Govt insist on low paid, insecure, poor quality work

— I'm a JSA claimant (@imajsaclaimant) February 12, 2015
Co-author Professor Joel Goh of Harvard Business School told Working Knowledge, "These factors affect health in two ways. They are both inherently stressful on the body, and also lead to unhealthy behaviors like alcoholism and overeating."
Researchers developed a mathematical formula that included these factors using data from four sub-populations of the US civilian labor force in 2010 – men, women, the unemployed and employed – and added data for negative health outcomes. They found that workplace stress contributes to at least 120,000 deaths a year.
READ MORE:Austerity to blame for 35% suicide surge in Greece – research
In 49,000 of these deaths, the biggest contributing factor was a lack of health insurance. Unemployment contributed to 34,000 deaths, and job insecurity and high work demands contributed to 30,000 deaths.
"We have this body of research that shows workplace stress is very bad for health, and we have this other information that says our health costs are way above that of other countries," Goh said. "But traditionally in the US we have not placed a lot of emphasis on the role of workplace stress in the high cost of health care."
Two in five workers say that their job is very or extremely stressful: How to Create a Stress-Free #Workplacehttp://t.co/RnCOCEaZZP

— Chantelle Jones (@JChantelle) February 4, 2015
The study's authors argued that employers can help address the problems by looking beyond health care programs to changes in management and operations.
"The workplace is where we spend a lot of the time – a third of our day," said Goh. "It's an avenue for stress and an avenue for ameliorating stress and by and large the costs are borne by employers."
READ MORE:'National moral disgrace': Over 1 in 5 US children on food stamps & living in poverty
The study showed when employees are working in downsizing firms there is a two-fold increase in sick absences. Giving employees some discretion over their work schedules has profound health benefits, researchers said, as low job control and high job demands contribute to poor health.
"Health care programs are no good if your guy is so stressed that he can't take advantage of them," said Goh.
You can share this story on social media: