'Death by overwork': Workaholic Japanese to be forced to take vacation time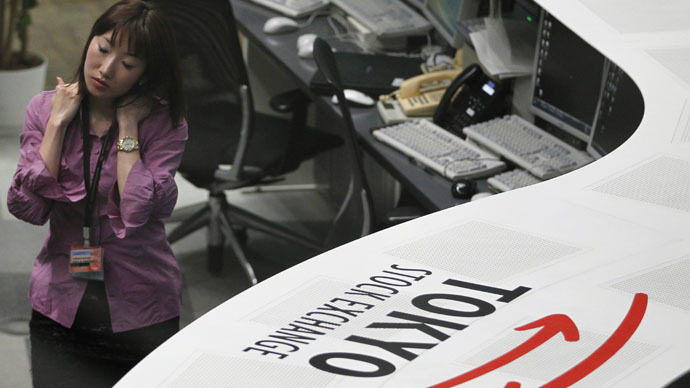 Japan is considering introducing a law making it compulsory for workers to take vacations. An extreme work ethic is blamed for a variety of problems, such as a low birth rate, while also causing mental and physical health problems.
The government wants to see Japanese workers take at least five days paid leave off from work every year. A survey by the country's Labor Ministry in 2013 found that on average, workers only took nine of the 18.5 days off that they were entitled to, AFP reports.
A separate poll said that one in six did not take any paid holidays in 2013. The government is looking to ensure that workers take at least 70 percent of their allotted time off and wants to submit legislation in the current parliament session, which began on January 26, according to Jiji Press.
READ MORE: A job to die for: Japan court rejects naming firms linked to employee overwork deaths

If the legislation is passed, it will become the responsibility of the employer to make sure that workers are taking paid leave.
Part of the reason for the Japanese reluctance to take that leave is the stigma attached. Many workers feel resentment from colleagues if they are absent from the workplace, as this increases the amount of labor the coworkers have to carry out. Younger employees also feel that they should not leave the workplace before their bosses do.
Japan is eyeing a compulsory 5 day paid holiday per year? Yes! Your salarymen need some rest time.

— Mariusz Sikorski (@AOFOTO) February 5, 2015
Yuu Wakebe, the Health and Labor Ministry official who is overseeing the implementation of this legislation, is adamant things need to change. He regularly works over 100 hours overtime per month and only took five days off in 2014 - one of those was because he was sick. Workers in Japan must use their vacation days if they are sick.
"It is actually a worker's right to take paid vacations," he said. "But working in Japan involves quite a lot of a volunteer spirit," which was reported by AP.
READ MORE: 'Worked to death': Japanese restaurant pays out $500,000 after manager commits suicide

The problem of overwork in Japan has become so acute that the term 'karoshi', which literally means 'death by overwork' was coined a few years ago. The government estimates that 200 people die from karoshi every year because of heart attacks or cerebral hemorrhaging due to long hours spent at the work place.
However, karoshi does not include deaths from mental depression or suicides. If this was the case, the number of work related deaths would dramatically increase.
Over in Japan, # of workers suffering from mental illness increased by 50%. Gov set to fine org's where employees forego taking holiday.

— Dan Pontefract (@dpontefract) February 4, 2015
The new law also wants to make sure that parents spend more time with the children and encourage more flexible working hours, especially in the summer months, when kids are on holiday. An aging population and low birth rate is currently seen as a big problem for the Japanese economy, the third largest in the world.
Many potential parents are put off having children because they simply do not have time due to work commitments, or they are unable to find a partner because their lives are devoted to their place of employment.
READ MORE: Japan child population hits record low

Although Japan is well-known for being an extremely hard-working nation, productivity is not always that great. Workers often feel the need to sit with their colleagues even if they are not doing anything, in order to be seen as 'boosting team spirit'. However, this can often affect performance and productivity levels.
Data compiled by the Japanese government shows that 22 percent of the public work more than 49 hours a week, compared to 11 percent of French and Germans. However, a staggering 35 percent of South Koreans are at work for more than 49 hours a week, according to AP.
You can share this story on social media: