A job to die for: Japan court rejects naming firms linked to employee overwork deaths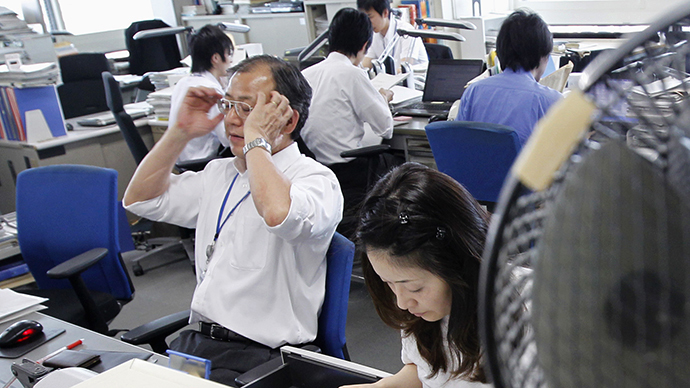 Japan's Supreme Court has thrown out an appeal by a group of activists demanding that the government name companies whose employees have died from being overworked.
In March 2009, the civic group requested that the Osaka Labor Bureau name companies within its jurisdiction that paid compensation within the past seven years for employees who died from strokes, heart attacks, and other health problems determined to be related to work, The Japan Times reported.
After the bureau refused to disclose such companies, the group appealed the decision at the Osaka District Court. The court ruled that the firms should be named, stating that doing so would not immediately discredit the companies.
But the ruling was later overturned by the Osaka High Court, which stated that certifying brain and heart disease for workers' compensation does not necessarily mean the companies were negligent or violated laws, adding that such public identification could undermine their reputation. The Japanese Supreme Court upheld the decision on Tuesday.
In Japan, karoshi – meaning "death from overwork" – claims around 200 lives annually, according to the Ministry of Labor. The first documented case of karoshi dates back to 1969, when a 29-year-old married man working in the shipping department of Japan's largest newspaper company suddenly suffered a stroke and died.
Karoshi victims literally work themselves into an early grave, with some giving up to 110 hours a week to their jobs and leaving almost no time for rest. Karoshi is mainly caused by cardiovascular attacks aggravated by a heavy workload, stress, and long working hours.
Deaths which have been attributed to karoshi include that of a 34-year-old man who died from a heart attack while working at a major snack food processing company 110 hours a week. His death was deemed work-related by the Labour Standards Office, according to a report published by the International Labor Organization.
Another man, whose death was also deemed work-related, was a 37-year-old bus driver who worked more than 3,000 hours a year and did not have a single day off in the 15 days leading up to his fatal stroke.
Since the late 1980s, karojisatsu - or "suicide caused by overwork" - has also become a serious social issue in Japan. 
Both karoshi and karojisatsu statistics are believed to be lower than the actual numbers, since many families accept deaths silently and companies are not keen to bear responsibility for staff members who pass away.
You can share this story on social media: