Monster pile-up in upstate New York shuts down highway (PHOTOS)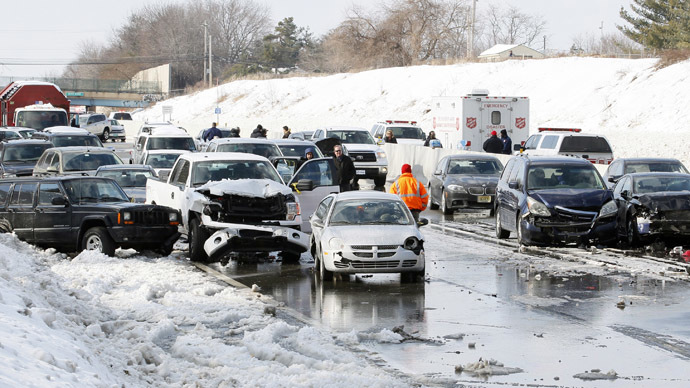 30 passenger vehicles and four tractor-trailers were involved in a massive car crash that forced the closure of an icy highway in upstate New York, according to state police.
Photos and videos shared by motorists and passengers on social media show dozens of cars smashed together and splayed across the highway lanes in Jefferson County, New York.
Traffic is being re-routed after the multi-vehicle crash, while crews work to clear the area. It is not yet clear if there are any serious injuries. The crash was reportedly caused by severe winter weather and low visibility.
A pop-up shelter has been erected at a local fire department where drivers and passengers are being escorted. School buses have been sent in to transport those left stranded. Jefferson Country emergency officials have issued a travel warning for the southern parts of the country, local news reports.
VIDEO: Massive pile-up on #I81 causes #traffic jam: http://t.co/AT54XCnx0U#TWCNewsSnow via @Brian_TWCNewspic.twitter.com/rpNacSblzk

— TWC News Albany (@TWCNewsAlbany) February 6, 2015
To fix original tweet: Photos from above I-81 North in Pierrepont Manor as 35 cars piled up in chain reax crash pic.twitter.com/5TrcmV2wWD

— Brian Dwyer (@Brian_TWCNews) February 6, 2015
#NYwx RT @Breaking911: VIDEO: Aftermath Of Multi-Car Pileup On I-81 Northbound http://t.co/0tBZe52Esqpic.twitter.com/OTHLpJ6l9S

— Kyle @Stormdesk (@Stormdesk) February 6, 2015
d
You can share this story on social media: