New smartphone dongle diagnoses HIV in just 15 minutes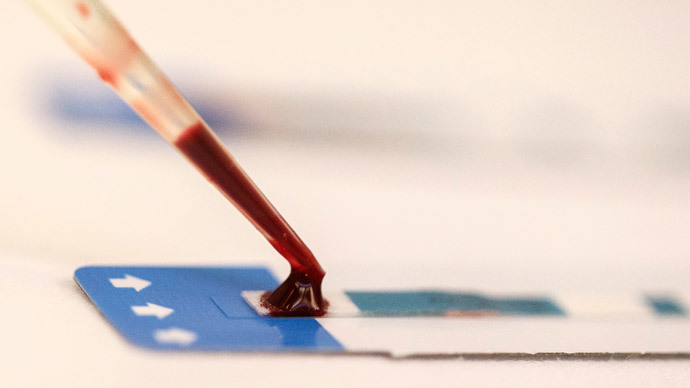 A cheap new device that can be attached to a smartphone can reportedly diagnose cases of sexually transmitted diseases such as HIV and syphilis – and, amazingly enough, the test only takes 15 minutes to complete.
Developed by researchers at Columbia University, the new phone attachment is being heralded as a potentially transformative breakthrough, due in no small part to its low cost. While the typical diagnostic machinery used to detect HIV and syphilis costs more than $18,000, the new mobile "dongle" costs a mere $34 to manufacture.
READ MORE:Russian scientists to test three HIV vaccines
"Our work shows that a full laboratory-quality immunoassay can be run on a smartphone accessory," said Samuel Sia, the lead researcher, in a statement. "Coupling microfluidics with recent advances in consumer electronics can make certain lab-based diagnostics accessible to almost any population with access to smartphones. This kind of capability can transform how health care services are delivered around the world."
According to a new study published in the Science Translational Medicine journal, the smartphone dongle was tested on 96 patients from Rwanda. The device had a 92-100 percent sensitivity rating when it came to correctly identifying infected patients, but its specificity rating was notably lower at 79-100 percent. That means that some individuals were incorrectly identified as infected even though they were not.
While researchers work on improving the accuracy, there are still high hopes for the machine, as the data compared favorably to the results of the costly enzyme-linked immunosorbent assay (ELISA) test. Even a device with 70-80 percent specificity and sensitivity could reduce syphilis-related deaths significantly, for example. Detecting HIV early in pregnant women, meanwhile, could help reduce the risk of passing the disease on to children.
"By increasing detection of syphilis infections, we might be able to reduce deaths by 10-fold," Sia added. "And for large-scale screening where the dongle's high sensitivity with few false negatives is critical, we might be able to scale up HIV testing at the community level with immediate antiretroviral therapy that could nearly stop HIV transmissions and approach elimination of this devastating disease."
READ MORE:Insurers discriminating against HIV/AIDS patients via drug costs – study
The dongle works by collecting a pinprick of blood from a patient's finger and uses a built-in ELISA test to detect whether the number of HIV- and syphilis-fighting antibodies in the blood are higher than average. Notably, the dongle does not have to deplete its own set of stored energy. By connecting to a smartphone's audio jack, it can instead use the device's energy to power its analysis.
With one test underway, the researchers are working on a much bigger test trial. If successful, they hope to attract the attention of the World Health Organization and use the device in affected countries.
"We are really excited about the next steps in bringing this product to the market in developing countries," Sia said. "And we are equally excited about exploring how this technology can benefit patients and consumers back home."
You can share this story on social media: