US Navy wants robots to train Marines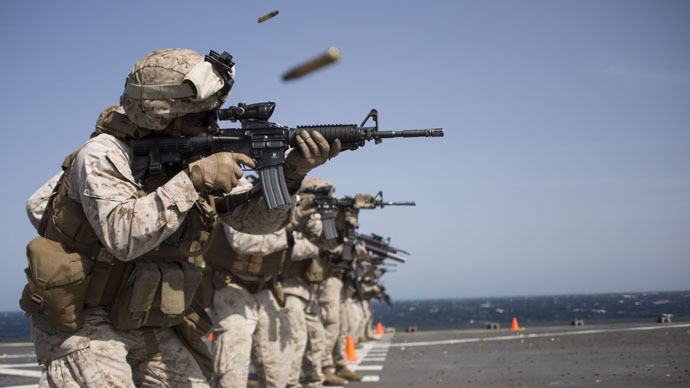 The US Navy is extremely interested in improving training for Marines and ensuring they're prepared for missions – and it's looking into the possibility of using robots to achieve those goals.
As part of a three-year study called the Human Surrogate Interaction program, the Office of Naval Research (ONR) is trying to determine the best way to use surrogates (i.e., robots) in various training procedures. Ideally, this would allow the Navy to use surrogates – which would remain controlled by humans in other locations – in training situations where it is inconvenient or costly to find a human individual.
If successful, ONR spokesperson Eric Beidel said the study "could lead to breakthroughs in creating the next-generation of avatars, robots and other human surrogates for military training."
READ MORE:Pentagon: US may lose high-tech military superiority to China, Russia
More specifically, ONR began an experiment this week at the University of Central Florida, in which a surrogate will spend the next few weeks greeting and interacting with people passing through the school's Institute for Simulation and Training. Researchers will apply what they learn to consider how different people react and interact with non-human robots.
"Marine Corps training concepts continue to merge virtual and live components to create the most realistic, effective and affordable training for Marines," said Dr. Peter Squire, ONR program officer, in a statement. "The way people react to and interact with the different surrogates in this study is crucial to understanding how we can improve our military training systems."
Florida researchers obsess over robots in program designed to use techonology to… http://t.co/hzLZq3N42A#miamipic.twitter.com/twBXpFjb0u

— Miami News Now (@miaminewsnow) January 29, 2015
Additionally, ONR said it is helping develop technology called AMITIES (Avatar Mediated Interactive Training and Individualized Experience System), which allows humans to "inhabit" the surrogates they take control of. This is done by way of advanced voice modulation, artificial intelligence, and software programs – and could allow one human to control multiple robots at once.
READ MORE:Navy's 100lb robotic 'spy fish' could take to sea next year
AMITIES-controlled surrogates have already been used in demonstrations for sexual assault training, during which the robots played the role of both the victim and the aggressor. In another demonstration, an AMITIES robot took on the role of an Afghan villager.
"If human role players are not available because of cost or other reasons, this research will help us understand the type of surrogate to replace them with so that the level of training is not diminished," Squire said.
Of course, the Navy is not a newcomer to the world of robots. Last year, the service said it was prepping a 100lb, robotic "spy fish" that could take to the waters as soon as 2015. The robot – which was designed to resemble a bluefin tuna – is capable of reporting on enemy ship movements, patrolling waters, and entering opposing territory undetected.
You can share this story on social media: