SpaceX showcases Falcon Heavy rocket launch & booster recovery animation (VIDEO)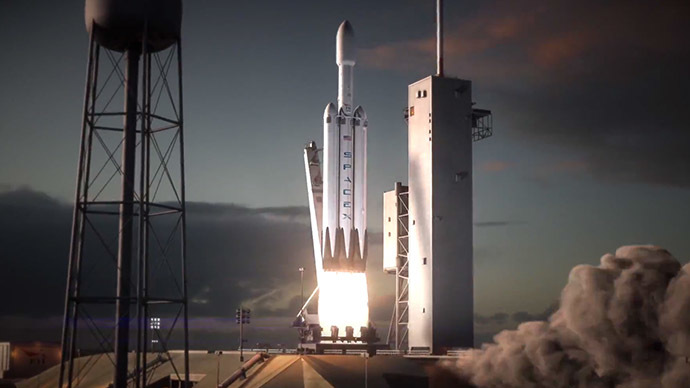 SpaceX released a 3D animation showcasing its Falcon Heavy rocket launch from Florida, with all three of the boosters safely returning to Earth. Earlier this month, an attempt to land a booster on a sea barge ended with a "rapid unscheduled disassembly."
A new simulation video shows how the Falcon Heavy, called the "most powerful rocket in the world," would operate three Falcon 9 first-stage boosters from lift-off to booster recovery.
With a projected ability to lift into orbit over 53 metric tons of mass – equivalent to a 737 jetliner loaded with passengers, crew, luggage, and fuel – Falcon Heavy is still to make its maiden voyage. SpaceX first needs to show a successful landing of its first-stage boosters on a platform in the ocean.
READ MORE: 'Rapid unscheduled disassembly': SpaceX releases video of Falcon 9 crash-landing
Falcon Heavy - Flight Animation 27 engines starting simultaneously. Incredible! Mind-blowing! Go #SpaceX#FalconHeavyhttp://t.co/Hk485ZFoU0

— Steve (@Steve_WYC) January 28, 2015
After the crash-landing earlier in January, SpaceX hopes to recover during the next run. On February 8, a Falcon 9 rocket will send a space weather monitoring satellite into orbit for NASA and the National Oceanic and Atmospheric Administration.
#SpaceX return to launch pad video of all three #falconheavy boosters. This is a MUST WATCH! http://t.co/VmvDU395y8pic.twitter.com/JHiSU8ZeY9

— delanman (@delanman) January 28, 2015
While most people who commented on the animated video praised the creative design and prospects of space exploration, some still doubted the rocket's future use and the company's ability to finish the project.
"If things do not work out with the toy rockets or the toy cars you can just keep releasing engineering porn like this," Sam Moore said in a YouTube comment, raising suspicion of being a jealous employee of a competing Orbital Sciences Corporation.
READ MORE: Orbital Sciences' Antares rocket explodes on takeoff from NASA facility in Virginia (PHOTOS, VIDEO)
You can share this story on social media: