Sheriffs want to disable police tracking feature on Google Waze app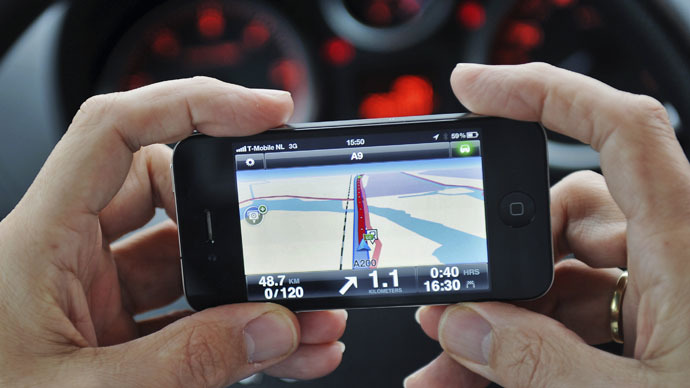 Google's traffic app Waze is under fire from law enforcement agencies across the United States as they look to disable an app capability that notifies users of police officers' current locations, over fears that it undermines safety.
The popular traffic software program, which combines social networking and GPS functionality to offer up-to-date traffic conditions, also notifies drivers when there is a "visible" or "hidden" cop on the road ahead. Users report police presence through a police icon that tells drivers of an upcoming speed trap or sobriety stop – whether it's hidden or visible.
While drivers like to avoid being stopped for speeding, police are nervous that the feature is an invitation to track and shoot officers, and they are petitioning to turn it off. Southern California Reserve Deputy Sheriff Sergio Kopelev and Bedford County, Virginia Sheriff Mike Brown told the Associated Press that "it is only a matter of time before the 'police stalker' is used to target law enforcement."
Waze allows "police stalking". Guys. Get a life. Or at least a job for people who aren't... https://t.co/CeoiuUBTDxpic.twitter.com/cOGfOJq2Fk

— Kee Hinckley (@nazgul) January 27, 2015
"The police community needs to coordinate an effort to have the owner, Google, act like the responsible corporate citizen they have always been and remove this feature from the application even before any litigation or statutory action," said Brown, who is also chairman of the National Sheriffs Association technology committee.
READ MORE:#BlueLivesMatter: Hundreds rally in support of police officers in Washington DC (VIDEO)
The outcry comes after numerous months-long protests against police brutality, which occurred across the US after the deaths of Eric Garner from New York and Michael Brown from Missouri. In December, two police officers were ambushed and shot to death in Brooklyn. The Waze app feature was one of the items posted on shooter Ismaaiyl Brinsley's Facebook page, although he wasn't using it at the time.
In its annual figures, the National Law Enforcement Officers Memorial Fund said that 15 law enforcement officers had been killed or "ambushed" in 2014 – three times more than in the previous year.
Police urge Google to turn off 'stalking' feature on Waze app http://t.co/uSeOLatUjP#DigitalHealth#mHealthpic.twitter.com/uvwWxKnxLr

— Paul Sonnier (@Paul_Sonnier) January 26, 2015
Los Angeles Police Chief Charlie Beck complained to Google's chief executive in December that Waze could be "misused by those with criminal intent to endanger police officers and the community." As of Monday, AP reported that the department had not heard back from Google regarding those concerns.
Waze spokeswoman Julie Mossler said the company thinks deeply about safety and security. She said Waze works with the New York Police Department and others around the world by sharing information. Google declined to comment.
READ MORE:More campus police officers armed despite falling crime rates – report
"These relationships keep citizens safe, promote faster emergency response and help alleviate traffic congestion," Mossler said.
Waze – which currently has 50 million users in 200 countries – provides free, real-time traffic guidance. Warnings about nearby congestion show up in easy-to identify colors, such as red for blocked lanes, orange for slow movement, and green for clear roads. The app also provides alerts for car accidents and weather conditions.
You can share this story on social media: