Feds file drug charges against alleged Silk Road 2.0 staffer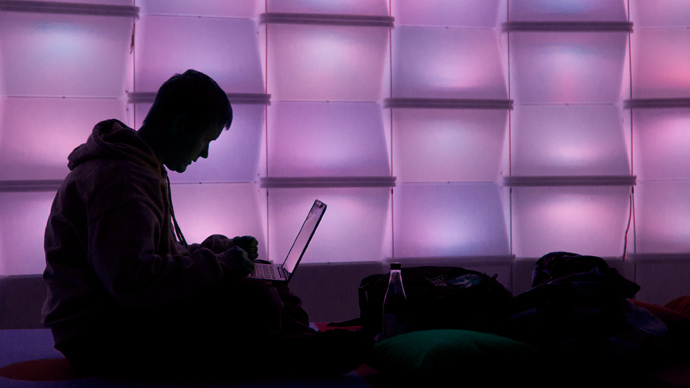 Federal authorities in the United States have charged and arrested another individual over alleged drug crimes related to the Silk Road 2.0 website, this time in the midst of the trial concerning the original site's supposed mastermind.
On Tuesday, a criminal complaint was officially unsealed in US District Court for the Western District of Washington, revealing that authorities have charged 26-year-old Brian Farrell of Bellevue, WA with one count of conspiracy to distribute hard drugs.
Farrell was arrested on Friday, Reuters reported, although news of the federal case against him was not made available until Tuesday.
According to the authorities, Farrell knowingly and intentionally conspired to sell heroin, cocaine and methamphetamine — all Schedule 1 narcotics — on Silk Road 2.0, an online marketplace in which contraband can be bought and sold by merchants and vendors across the globe using digital cryptocurrency.
READ MORE: FBI seizes 'Silk Road' black market domain, arrests owner
"Silk Road," a highly popular underground web store that spawn numerous successors, went offline in October 2013. This led to a federal investigation, which ended with the seizure of the site and the arrest of its supposed administrator, Ross Ulbricht. Police say that Ulbricht, using the alias "Dread Pirate Roberts," helped push illegal drugs and computer hacking services, among other products, that could be purchased with bitcoins. Visitors would access the site by using the anonymity-centric Tor network. The 29-year-old Ulricht, is currently on trial in New York City for charges related to his alleged role with the original Silk Road.
READ MORE: Former SpaceX employee faces life in prison for running Silk Road 2.0
Almost one year to the day, authorities announced in October 2014 that they had caught the suspected operator of a spin-off site, Silk Road 2.0, and had charged Blake Benthall of San Francisco under a four-count indictment, which like the case against Ulbricht, carries a maximum sentence of life in prison.
In the complaint against Farrell, which was unsealed this week, the authorities say that they were privy to Silk Road 2.0's internal operations since early last year and had narrowed in on the Washington man back in July.
"Between January 2014 and July 2014, a source of information provided law enforcement with particular IP addresses that had accessed the vendor portion of SR2," Michael Larson, a special agent for the US Immigration and Customs Enforcement, testified in the complaint. That information, Larson added, brought federal agents to a Bellevue residence last July that was tied to motor vehicle records for two people, including Farrell.
The other resident, who is not identified by name in the complaint, was asked about any knowledge of Silk Road during an interview with law enforcement last month, the document reveals. Although that person dismissed having any intimate knowledge of the underground network, they told authorities that Farrell said "he could get 'anything' off the website," and "obsessively" tracked the package he purchased off the internet.
One of those packages, according to the complaint, contained 107 Xanax pills and was "voluntarily surrendered" to law enforcement on December 23, 2014 — three days after Customs and Border Protection officers attempted to question Farrell upon his arrival in Chicago from an international flight that originated in Europe, according to the Bellevue Reporter, and subsequently seized his computers.
Police raided the Bellevue home on January 2, armed with a search warrant and confiscated further computer media, drugs and a few thousand dollars' worth of silver bullion bars of gold, according to the complaint. Farrell was then again interrogated about Silk Road 2.0.
"You're not going to find much of a bigger fish than me," Farrell reportedly said of his involvement with the site. During that interview, Farrell also identified himself as an assistant to "Defcon"—the alias believed to have been used by Benthall, the man authorities arrested in October 2014 on suspicion of running the website's second incarnate.
READ MORE: Attorneys for alleged Silk Road mastermind say bitcoin exec set their client up
According to the latest complaint, Farrell told authorities that he served as a spokesperson for "Defcon" and received a weekly salary that reached $1,750 at one point for his role with Silk Road 2.0. That admission will likely be used against him: he was expected to be in federal court in Washington on Tuesday this week to answer to the indictment that accuses him of working with the site during a time when sales exceeded one kilogram of heroin, five kilograms of cocaine and 500 grams of meth. Authorities said previously that Silk Road 2.0 was generating upwards of $8 million each month through illegal, underground sales.
Lawyers for Farrell and Benthall did not immediately respond to requests for comment from Reuters on Tuesday.In US District Court for the Southern District of New York, meanwhile, attendees at this week's proceedings concerning Ulbricht wrote that attorneys for the defense and prosecution spent a large chunk of Tuesday arguing over what evidence can be presented to the jury.
You can share this story on social media: