'I think he was coerced' by FBI - father of Capitol Hill terror suspect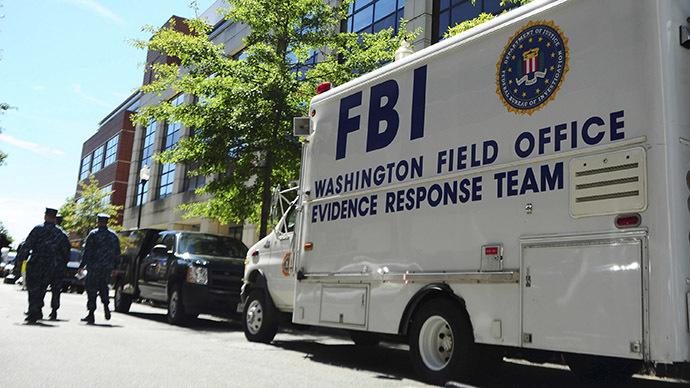 The father of the young Ohio man arrested by the FBI for allegedly planning to attack the US Capitol said that he believes his son was "coerced" by a law enforcement "snitch" and was "at peace" as a practicing Muslim.
John Cornell told various media outlets that his son was definitely set up by the FBI: "I believe that this so-called snitch filled his head with a lot of this stuff," he said.
The "snitch" was allegedly an FBI informant who helped the agency keep tabs on 20-year-old Christopher Cornell, who reportedly posted sympathetic comments regarding the Islamic State (formerly ISIS or ISIL) online and supported violent "jihad" against the United States.
Following Christopher Cornell's arrest in Ohio last week, news of his foiled terror plot – and the father's accusations against the FBI – has been raising questions among some about the announcement's timing and potential FBI entrapment.
READ MORE:Homegrown terror plots seen as FBI entrapment
Cornell was said to have been planning to detonate pipe bombs at the Capitol building in Washington, D.C., where he would also open fire on any employees and officials fleeing after the explosions, according to government documents. In the run-up to his arrest, officials say Cornell was in the midst of making travel arrangements, and had already bought two semi-automatic weapons and hundreds of rounds of ammunition.
Cornell's parents, however, say their son had a normal childhood and they were shocked by his arrest.
"I know my son probably better than anyone," John Cornell told ABC News. "He's a mommy's boy. His best friend is his cat Mikey. He still calls his mother 'Mommy'. Just a typical kid."
The FBI is said to have first noticed Cornell in the Summer of 2014, when an informant notified the agency that Cornell, under the alias Raheel Mahrus Ubaydah, was voicing support for violent jihad online.
Wow. Non stop FBI entrapment of kids. http://t.co/ZeNCKQ94ac/s/Edp6 #entrapment

— Priya Warcry (@PriyaWarcry) January 16, 2015
The FBI informant met with Cornell on several occasions. During those occasions, Cornell allegedly told the informant that US lawmakers were enemies and that he wanted to launch an attack on the Capitol in Washington.
READ MORE:FBI considered turning Al-Qaeda publisher into informant
John Cornell insisted Monday that there is no way his son could have thought up a terror plot on his own.
"He told me he had went to a mosque and now I know, in hindsight I know, he was meeting with an FBI agent," he told NBC News.
During an interview with Daniel McAdams, the executive director of the Ron Paul Institute, RT's Ben Swann asked whether news of Cornell's arrest – coming on the heels of violent terror attacks in France and continuing concerns about the Islamic State – indicated that there has been a timing issue with these kind of foiled terror plots.
"I think there is," said McAdams. "You have public attention on these events. The public gets very excited. The issue with these foiled plots is there is just an incentive all around to have a big blow up. Of course the media loves it - they have the most sensational headlines possible. The FBI loves it because they get credit for actually doing something against terrorism. The informants who are involved love it because they usually get time off prison."
"And the government loves it because it allows them to pass more restrictive laws and more surveillance laws against Americans to keep us safe. So I think the timing is very important, because you have to do it at a time where people are paying attention, and people are frightened of these things."
Swann makes reference to an investigative report by Mother Jones from 2011, titled "The Informants," which asked whether the billions of dollars spent on domestic counter-terrorism efforts by the FBI was busting terrorism plots or creating them.
READ MORE:New document reveals FBI's role in NSA surveillance program
The report found that in the 508 terror investigations since 9/11, about half involved the use of an informant. In some cases, informants were paid $100,000 per assignment or were working off criminal or immigration violations. Suspects were prosecuted in 158 cases, though almost 50 defendants participated as a result of an FBI operative "instigating terrorist action."
Convicted 'eco-terrorist' freed amid claims FBI hid evidence. Spent 9 yrs in jail. http://t.co/8jS3Sw6LVc#entrapment

— My Own Pace (@My_Own_Pace) January 13, 2015
Swann asked McAdams just how troubling it is that informants are paid or are coerced into finding potential terrorists.
"You have to take a good look at our criminal justice system," McAdams said. "If you are arrested for one thing, you may end up with 10 different charges on you for committing one act, and they may add up to 20 to 30 years in prison. So you'll find some guy who was a low-level drug dealer, who maybe they say was resisting arrest … they pile the charges on."
"He's facing 30 years, and [the FBI] offer him an incentive, and training – here is how you do this; here's how you infiltrate a mosque; here is how you get some poor loser with no money. And if you get him to sign on to this plot, then you'll get some time off or you'll get some money."
Past stings have also sparked entrapment accusations against the FBI, but the agency claims that such stings are vital for averting deadly terror attacks, the Associated Press reported.
You can share this story on social media: