#BlackLivesMatter take centerstage as thousands march in tribute to MLK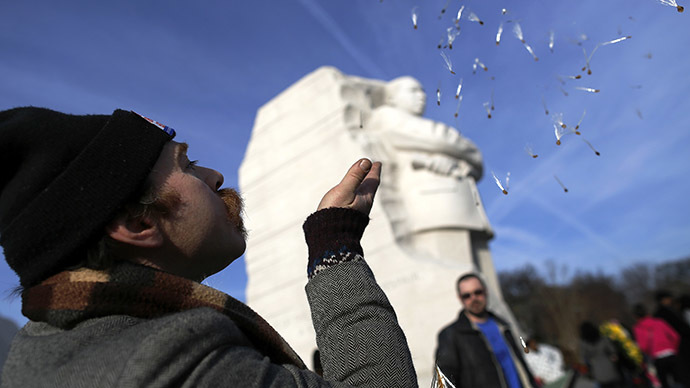 ​Thousands of Americans are marching across the country on Monday in honor of slain civil rights leader Dr. Martin Luther King, Jr.
Traffic reached a standstill in metropolitan hubs including Washington, D.C. and New York City on Monday during annual holiday demonstrations during which the legacy of MLK is preserved by activists and sympathizers aiming to expand civil liberties.
Demonstrators aligned themselves with Dr. King, the African-American Atlanta-born pastor who died from an assassin's bullet in 1968. The message from the protesters was that fifty years on the issues of discrimination persist.
Several hundred #BlackLivesMatter activists gather at NYC's Union Sq to mark the #MLKDay2015#4MileMarchNYCpic.twitter.com/KRiUZqmQKq

— Alexey Yaroshevsky (@Yaro_RT) January 19, 2015
Protesters paid tribute to unarmed black teen Michael Brown, who was killed by a white officer in Ferguson, Missouri, and Eric Garner, who died during his arrest in Staten Island, New York.
At Harris-Stowe State University in St. Louis, protesters interrupted an MLK ceremony by taking the stage at the auditorium unannounced, reportedly in anger over the death of Brown, and forcing the ceremony to temporarily grind to a halt, the St. Louis Post-Dispatch reported. Attendees left the auditorium in anger, accusing the demonstrators of being disrespectful.
At Harris Stowe. #reclaimMLKpic.twitter.com/GYsID4oei5

— Tiffany Shawn (@mnrtv) January 19, 2015
In some places, activists also staged die-ins to commemorate Brown's life.
Christians for Black Liberation staging 4 and a half minute die in for Michael Brown, Broadway and 14th pic.twitter.com/8LU3JeajPL

— be shrill, my heart (@theshrillest) January 19, 2015
Television host Oprah Winfrey and pop singer John Legend rallied alongside thousands of others on Monday in Selma, Alabama – the southern city that famously served as starting point for the 54-mile civil rights march attended by King in 1965.
LIVE VIDEO: #MLK Day of Action March in Philadelphia: http://t.co/bshQ4YV9pepic.twitter.com/86eYpy45og

— Action News on 6abc (@6abc) January 19, 2015
Stars of the motion picture "Selma," a historical drama based on the march that opened in theaters across the United States earlier this month, joined Winfrey, Legend and others during Monday's event in the motion picture's namesake.
"The idea is that hope and possibility is real," Winfrey said of the civil rights movement in Selma, according to the Associated Press. "Look at what they were able to do with so little, and look at how we now have so much. If they could do that, imagine what now can be accomplished with the opportunity through social media and connection, the opportunity through understanding that absolutely we are more alike than we are different."
RAW VIDEO: Protesters block MLK march in downtown Atlanta ---> http://t.co/7jbOcgMsQrpic.twitter.com/tuEWyVFOSg

— WSB-TV (@wsbtv) January 19, 2015
United States Rep. William Clay, a St. Louis Democrat, evoked last year's controversial officer-involved shooting in nearby Ferguson, Missouri in advocating for change during Monday's event when speaking to Fox News.
"We need to be outraged when local law enforcement and the justice system repeatedly allow young, unarmed black men to encounter police and then wind up dead with no consequences," Rep. Clay said. "Not just in Ferguson, but over and over again across this country."
Reclaim MLK march stretches across Broad. "Whose lives? Our lives!" pic.twitter.com/oKprib11iK

— Aubrey Whelan (@aubreyjwhelan) January 19, 2015
Thousands of others were reportedly participating in similar marches on Monday this week in cities including Sacramento, California, Boston, Massachusetts and San Antonio, Texas, according to local media reports.
"This is everyone's struggle," Ghada Ghannam, a 20-year-old University of Texas at San Antonio student originally from Egypt, told journalists at the city's Express-News paper. "Regardless of where they're from."
#NCCU honors #MLK w/ recreation of 1965 Alabama march w/ John Lewis, Jesse Douglas, James Forman & Ralph Abernathy. pic.twitter.com/NQ2uRvoqXk

— N.C. Central Univ. (@NCCU) January 19, 2015
You can share this story on social media: