Hollywood split on 'American Sniper' despite record-breaking weekend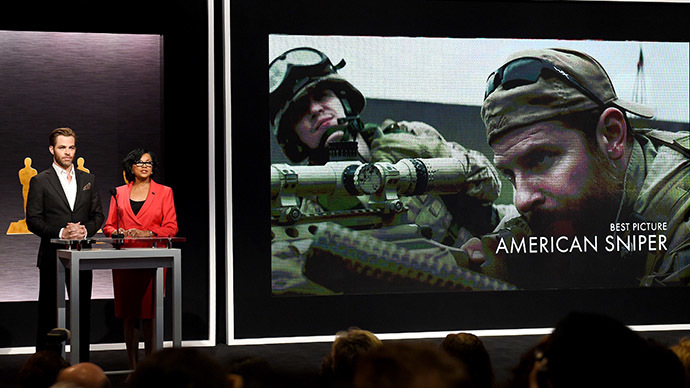 'American Sniper' shattered box-office records over the weekend, earning at least $90.2 million between Friday and Sunday. However, in Hollywood, not everyone is hailing the biographical war drama based on real life events.
The Clint Eastwood-directed feature, which opened in major American theaters on Friday, utilizes the 2012 best-selling autobiography penned by former United States Navy SEAL Chris Kyle, projecting it onto the big screen, and presents audiences with a motion picture depiction of the man called the deadliest sniper in US military history.
Notwithstanding a sensational weekend at the box-office, some celebrities are now saying the film all too grossly glorifies war.
Seth Rogan, the star of another movie that recently made waves in its own right, 'The Interview, said on Twitter over the weekend that "American Sniper" reminds him of a faux Nazi propaganda movie shown during Quentin Tarantino's 2009 movie Inglourious Basterds.
American Sniper kind of reminds me of the movie that's showing in the third act of Inglorious Basterds.

— Seth Rogen (@Sethrogen) January 18, 2015
Filmmaker Michael Moore, whose documentary on the War on Terror, 'Fahrenheit 9/11', became the highest-grossing film of its type ever, took heat over the weekend after writing from his personal Twitter account that he was taught "snipers were cowards." His remark soon after ended up being lumped together with criticisms concerning the Eastwood-directed movie, which he later wrote on Facebook was of a different context.
"If they wanted to know my opinion of 'American Sniper' (and I have one), why not ask me?" Moore posted on Facebook on Sunday, adding that he thought actor Bradley Cooper's performance was "one of the best of the year," albeit in a film not without its faults.
"Oh... and too bad Clint gets Vietnam and Iraq confused in his storytelling. And that he has his characters calling Iraqis 'savages' throughout the film. But there is also anti-war sentiment expressed in the movie. And there's a touching ending as the main character is remembered after being gunned down by a fellow American vet with PTSD who was given a gun at a gun range back home in Texas – and then used it to kill the man who called himself the 'America Sniper'."
Indeed, RT wrote previously that Kyle, the "deadliest sniper" portrayed in the film by Cooper, was killed in February 2013 when he was shot-down at a Texas gun range.
Not everyone on Hollywood's left is coming after the film's storyline, however. Actress Jane Fonda, who made headlines in the 1970s for her opposition to the Vietnam War, wrote on Twitter, that Cooper did a "sensational" job in what she called a "powerful" film.
My uncle killed by sniper in WW2. We were taught snipers were cowards. Will shoot u in the back. Snipers aren't heroes. And invaders r worse

— Michael Moore (@MMFlint) January 18, 2015
US Vice President Joe Biden had other, equally strong words, for the movie.
"It's intense, man," Biden said after attending the recent Washington, DC premiere of the film, according to The Daily Beast.
"My hope is that if someone is having a political conversation about whether we should or should not have been in Iraq, whether the war is worth fighting, whether we won, whether we didn't, why are we still there, all those [issues], that really – I hope – is not one that they would use this movie as a tool for," Cooper previously told The Daily Beast.
Just saw "American Sniper" Powerful. Another view of "Coming Home." Bradley Cooper sensational. Bravo Clint Eastwood. http://t.co/l94zY5Gh8Q

— Jane Seymour Fonda (@Janefonda) December 21, 2014
"And for me, and for Clint, this movie was always a character study about what the plight is for a soldier. The guy that I got to know, through all the source material that I read and watched, and home videos – hours and hours – I never saw anything like that. But I can't control how people are gonna use this movie as a tool, or what they pick and choose whatever they want. But it would be short-changing, I think. If it's not this movie, I hope to god another movie will come out where it will shed light on the fact of what servicemen and women have to go through, and that we need to pay attention to our vets. It doesn't go any farther than that. It's not a political discussion about war, even…It's a discussion about the reality. And the reality is that people are coming home, and we have to take care of them."
According to early estimates, 'American Sniper' may gross as much as $105 over the three-day holiday weekend – shattering records for previous openings held on Martin Luther King Day weekend and all other weekends in January, according to USA Today..
You can share this story on social media: