Seasonal flu vaccine only 12 percent effective in adults – CDC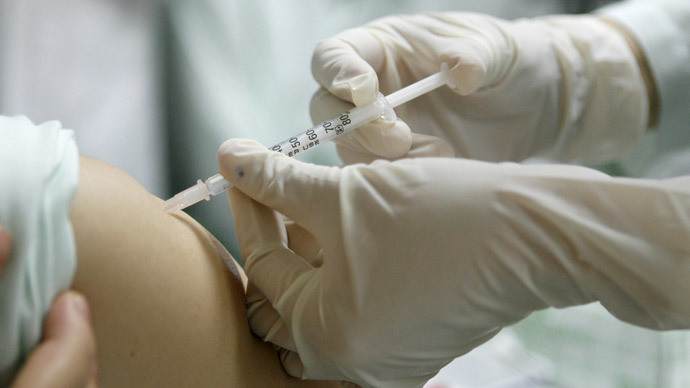 The US's seasonal flu vaccine was only 12 percent effective, according to a Centers for Disease Control and Prevention (CDC) estimate. Nearly 70 percent of flu viruses have "drifted" from the form used in the immunizations, the government body said.
The CDC states in its weekly Morbidity and Mortality Report, released Thursday, that: "Overall, the estimate suggests that the 2014-15 influenza vaccine has low effectiveness against circulating influenza A (H3N2) viruses."

It stated that the seasonal flu shot offered less protection because of the widely varied nature of the flu viruses in the US. Seventy percent of flu viruses were a different strain or had "drifted" from the virus used to produce the vaccination.

"More than two-thirds of circulating A (H3N2) viruses are antigenically and genetically different (drifted) from the A (H3N2) vaccine component of 2014–15 Northern Hemisphere seasonal influenza vaccines," the report said.

The news somewhat undermines the CDC drive to encourage the public to get vaccinated against the flu.

However, in a release published on the CDC website, it still professed the importance of getting a flu vaccine, saying it "reduced a person's risk of having to go to the doctor because of flu by 23 percent among people of all ages."

Despite this, it conceded that: "Flu viruses change constantly and the drifted H3N2 viruses did not appear until after the vaccine composition for the Northern Hemisphere had been chosen."

On Thursday, the CDC recommended that additional flu treatment measures be prepared, particularly with regards to more vulnerable patients.

"All hospitalized patients and all outpatients at high risk for serious complications should be treated as soon as possible with one of three available influenza antiviral medications if influenza is suspected, regardless of a patient's vaccination status," The Hill reported Joe Bresee, branch chief in the CDC's flu division, as saying.

Among high-risk groups are children younger than five years old, "but especially children younger than two years old," adults 65 years of age and older, pregnant women, American Indians and Alaskan Natives, and people who have preexisting medical conditions such as heart disease, asthma or a weakened immune system.

Those who benefited most strongly from receiving the vaccination were children below the age of 17. In this group it was 26 percent effective.
You can share this story on social media: