2 free climbers reach peak of Yosemite's El Capitan in historic challenge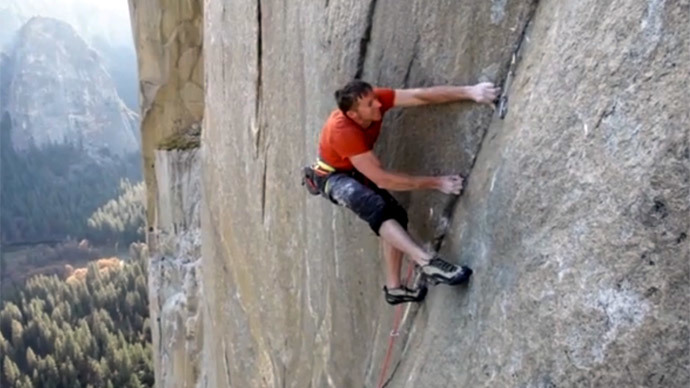 Two American world-class rock climbers have become the first to free-climb the 3,000-foot Dawn Wall of El Capitan in Yosemite National Park.
Tommy Caldwell, a 36-year-old from Colorado, and Kevin Jorgeson, 30, from Santa Rosa, reached the summit of the Sierra Nevada monolith to the cheers of relatives and friends assembled at the peak of the rock to watch their historic climb that finished just after 6:00 p.m. EST.
The challenge to scale the zenith first began on December 27. Inch by inch, they ascended the vertical slope of El Capitan. The duo camped in tents suspended from the rock with provisions brought to them on ropes. The men – who climbed in the late afternoon and at night to avoid the slippery surface of the rock in warm weather – used headlamps to illuminate their path. They were under the constant watch of reporters who hoped to capture their endeavors for a documentary.
American free climbers celebrate after reaching summit of Yosemite's El Capitan http://t.co/342mwqr56apic.twitter.com/aRRHNOXFQZ

— NBC Nightly News (@NBCNightlyNews) January 15, 2015
Free climbing – using one's hands and feet to ascend a rock's natural features – is considered to be one of world's most dangerous sports. Employing ropes and other gear is only allowed to stop a fall.
The two adventurers are scheduled to address the press in the valley on Thursday morning. For now, the duo has asked for privacy to celebrate in style.
2 Americans summit in historic free climb to top of Yosemite's El Capitan. @MiguelNBC joins us now #NBCNightlyNewspic.twitter.com/puFKYQAqRG

— NBC Nightly News (@NBCNightlyNews) January 14, 2015
UPDATE: It took Kevin Jorgeson and Tommy Caldwell 19 days to reach peak of El Capitan http://t.co/8hNZiu6WiBpic.twitter.com/jWiAg6qpVU

— ABC7 Eyewitness News (@ABC7) January 14, 2015
Hands bloody & wind whipping, adventurers document #ElCapitan free #climb. By @katiahetter: http://t.co/ongOwI0Hp4pic.twitter.com/uT1ncemQwq

— Eliott C. McLaughlin (@EliottCNN) January 8, 2015
#SuchGreatHeights@NPRmelissablock uplifting chat with @kjorgeson@tommycaldwell1 at 1,200 ft http://t.co/fUhi5M05Nbpic.twitter.com/ogvdNc4Uel

— John Gurnick (@gurnick) January 7, 2015
Insane: These 2 men are using nothing but their hands and feet to scale a 900m smooth cliff: http://t.co/eopi0dUCwipic.twitter.com/xKOeFpplxY

— PerthNow (@perthnow) January 7, 2015
You can share this story on social media: