Teen charged with helping ISIS pleads not guilty, mother criticizes extremists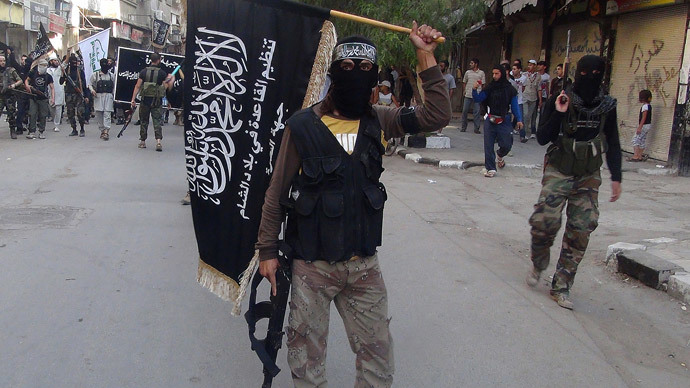 A young Chicago man accused of trying to aid Islamic State militants in Iraq and Syria pleaded not guilty to federal charges, while his mother heavily criticized terror organizations around the world for trying to recruit young people for their cause.
At a hearing on Tuesday, defense attorney Tom Durkin said he thinks the government does not have a strong enough case to convict his client, 19-year-old Mohammed Hamzah Khan. However, Reuters reported that Durkin did say Khan "believed Islamic State propaganda about the utopian nature of the caliphate."
"We don't believe the evidence will be sufficient to show that he was providing material support to a terrorist organization" Durkin said following the hearing. "We believe he wanted to live in a caliphate, as misguided as that may be."
READ MORE:Feds charge US teen with trying to join ISIS
Back on October 4, Khan was stopped and arrested by authorities at the airport as they executed a search warrant on his home in the Chicago suburbs. In Khan's bedroom, law enforcement officials discovered a three-page letter outlining his plans to join the Islamic State (IS, also known as ISIS/ISIL).
"We are all witness that the western societies are getting more immoral day by day," the letter read, according to charges filed in federal court. "I do not want my kids being exposed to filth like this."
Khan was also allegedly trying to board a flight with his two younger siblings, aged 16 and 17. He was indicted for "attempting to provide material support to a foreign terrorist organization" last week.
If convicted, Khan faces up to 15 years in prison and a fine of $250,000.
Mom to ISIS: Leave kids alone http://t.co/K9UBjBMETkpic.twitter.com/PwmUuPCt8W

— Muhammad Munandar (@nandarJr) January 13, 2015
Following the Tuesday hearing, Khan's mother, Zarine Khan, referred to IS recruitment efforts on social media, as well as attempts by extremist groups to cause violence around the world.
"The venom spewed by these groups and the violence committed by them find no support in the Quran and are completely at odds with our Islamic faith," she said to NBC Chicago, referring to the recent bloodshed in Paris.
"We condemn this violence in the strongest possible terms. We condemn the brutal tactics of ISIS and groups like it. And we condemn the brainwashing and recruiting of children through the use of social media and the Internet. And we have a message for ISIS, [Islamic State leader Sabah] Baghdadi and his fellow social media recruiters: Leave our children alone."
According to the CIA, thousands of foreign fighters have joined IS in Iraq and Syria, where the extremist group has captured wide swathes of territory. The United States has promised to "degrade and ultimately destroy" the group, and has continued conducting airstrikes in the region in support of anti-IS forces.
You can share this story on social media: