Iowa cop shoots woman dead in front of family, while trying to pacify their dog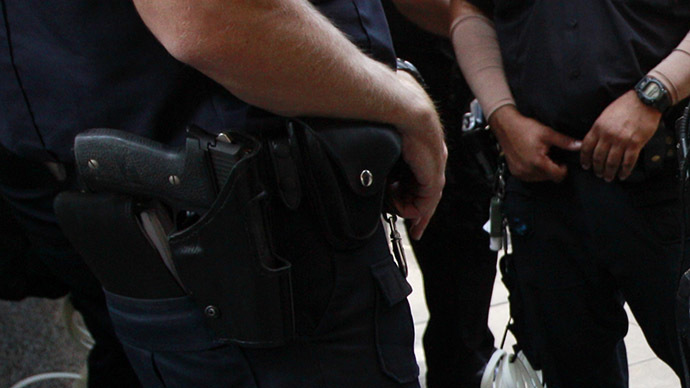 An Iowa cop shot and killed a 34-year-old woman in front of her husband and four-year-old son. Witnesses say he was aiming for the family dog, which startled him as he was trying to break up an argument between the couple.
The victim, Autumn Mae Steele, of South Garden Ave. in Burlington, Iowa, was pronounced dead on arrival at hospital on Tuesday.
The shooting happened as Officer Jesse Hill responded with colleagues to a domestic dispute call at 10:25am local time, according to a press release from the Iowa Division of Criminal Investigation. Hill reportedly fired his gun twice, with one round hitting Steele in the chest, the other in the middle of her torso.
Heartbreaking. IA Cop tries to shoot family dog, slips on ice, & shoots/kills woman in front of 4 yr-old & husband. http://t.co/ZzxztHq8dh

— TC (@tchopstl) 8 января 2015
Hill, who has been on the force since August 2013, reportedly sustained a dog bite, and was released from hospital shortly after receiving treatment.
READ MORE: Cleveland cops shot boy holding air gun 2 seconds after arriving at scene (VIDEO)
According to witnesses speaking to local newspaper The Hawk Eye, Hill was trying to break up an argument between the couple when their German Shepherd approached, startling him to the point that he fell down in the snow and kept on shooting, hitting Steele in the process.
"The dog startled the officer. The officer began shooting at the dog. The officer was still shooting when he fell down in the snow," one bystander told The Hawk Eye.
"It appeared he was shooting at the dog when [the officer] fell to the ground," another witness told the paper. "It's my belief the woman was shot accidentally."
Burlington #cops aren't saying anything but an officer shot & killed a woman yesterday morning in front of her house. http://t.co/AlzSxafekt

— Miserable City TV (@miserablecitytv) 7 января 2015
Only an hour before the fatal shooting took place, Steele had been released from jail following a domestic dispute on Monday. She had allegedly attacked her husband Gabriel.
Steele had reportedly been told she had to have an officer present to escort her home after release. Hill was at the scene as the couple had resumed arguing in front of their car outside. The husband was loading their child into the car when this took place.
Amore thorough investigation is underway, with statements and evidence being collected.
You can share this story on social media: