PA police shoots suspect dead for resisting arrest over online threats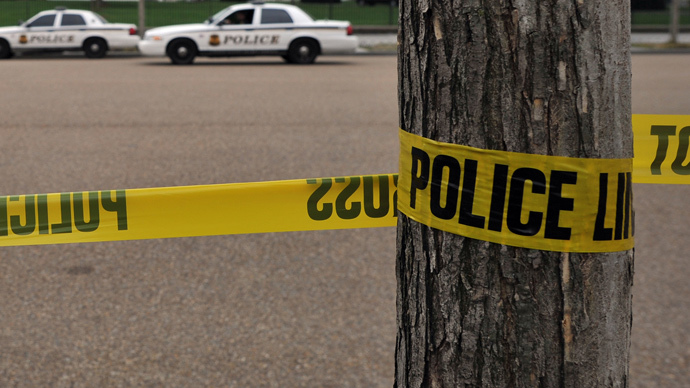 Police in Pennsylvania have shot and killed a 52yo man after he allegedly attempted to 'run them over' in his vehicle after they tried to arrest him over his earlier online threats against police officers and federal agents.
The incident which took place around 16:15 local time, at Garrett Road and Shadeland Avenue in Drexel Hill, Pennsylvania, occurred as police officers tried to arrest the man wanted for posting threats for police officers and FBI agents on YouTube.
"He threatened to kill police, threatened to kill FBI agents," Upper Darby Police Superintendent Michael Chitwood said.
Just got to the scene here in Drexel Hill. Will advise. pic.twitter.com/JZ92QwqQ4r

— Vinny Vella (@Vellastrations) December 30, 2014
The fatal shooting took place as police stopped to surround the suspect's vehicle, Chitwood said. The driver put the car in reverse and smashed into the Clifton police chief's SUV, allegedly trying to run several officers over.
In response, Chitwood says, five police officers fired several shots. No officers were injured in the incident.
"The officers were in fear of their lives and did what they had to do," Chitwood said.
The suspect has not been officially identified, but a law enforcement source told CBS news that the 52-year-old is believed to be Joseph A. Pacini of Clifton Heights.
Philly News reports, that in one of his YouTube videos, the suspect replayed the voicemail from Haverfort Detective Albert M. Hufnal that he had received on Monday to issue the following response.
"Clearly these guys want me dead or in prison, and there's no way in hell I'm going back in prison. No [expletive] way. So to the police, to the FBI, to the CIA agents, I'm not taking a fall for my family anymore, okay?" the alleged suspect says in one video. "This time the Sicilian code is now busted. I'm opening my mouth, right here, right now, at 5:37 p.m., on Monday Dec. 29, 2014, this is my coming out party."
"So you're going to try to bring me down? I will [expletive] kill you and your whole [expletive] family, all right? So go ahead and [expletive] with me, all right? Try it."
Edward Hanko, special agent in charge of the FBI's Philadelphia division told Philly news that the Feds were aware of the threats, but were not involved in the investigation.
Police shootout at a Drexel Hill, Garrett and ShadeLand. pic.twitter.com/gU3yfpr75H

— Ben Gildas+ (@benjaminwallis) December 30, 2014
You can share this story on social media: