4 shot, 3 hospitalized in Portland, Oregon high school shooting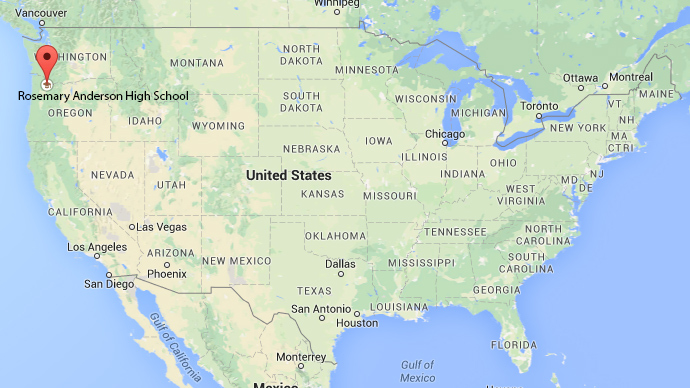 ​A shooting at a Portland, Oregon high school on Friday has left three people injured, according to the Associated Press.
Portland's KPTV-News reported on Friday afternoon that four people were shot by a gunman or gunmen outside the city's Rosemary Anderson High School. Three victims were injured and needed to be transferred to a hospital. A fourth person was also grazed by a bullet, according to Fox News, but she was not hospitalized.
Despite initial reports, police say the shooting did not take place inside of the school, but rather just outside on Killingsworth Court, according to KOIN 6. Police also believe the shooting may be gang-related.
The three victims hospitalized were breathing and conscious when they were authorities arrived at the scene. Although these three were injured, they were able to run into the school in the wake of the shooting.
"Obviously were thankful we don't have any loss of life" -Sgt Simpson, 3 victims ran into school conscious, breathing http://t.co/lX3ksSqaN2

— The Oregonian (@Oregonian) December 12, 2014
According to The Oregonian, a 17-year-old was shot in from the back and was in serious condition. A female student, 16, was shot in the chest and was in critical condition. A 20-year-old man was in serious condition as well, while a 19-year-old woman was grazed and treated at the scene.
Details on potential suspects have not yet been released, but the AP reported that an individual sought in connection with the shooting reportedly fled the school. The shooter did not enter the school at all, officials said, and the area is now secure.
"This doesn't appear to be an active shooter running around shooting people," said police spokesman Sgt. Pete Simpson to the Los Angeles Times.
Rosemary Anderson, a community-based alternative high school, has an annual enrollment of roughly 190 students, according to its website. The site for the Portland Public School District says the city's "most at-risk and disadvantaged youth" are educated at the facility, through "positive reinforcement and creating an academic atmosphere founded upon a nurturing yet challenging classroom environment."
Two other schools — Jefferson High School and PCC Cascade — were on lockdown following news of the shooting, KPTV reported. In June, a freshman student died following a shooting at Reynolds High School in the Portland area.
You can share this story on social media: