Rep. Michael Grimm resigns seat after pleading guilty to tax evasion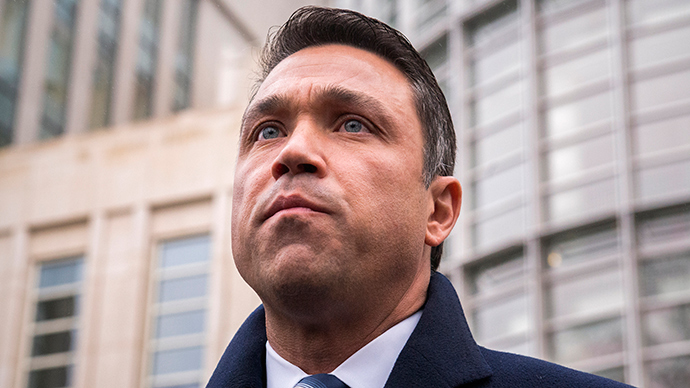 US Rep. Michael Grimm said late Monday that he will resign his seat in Congress, one week after the Staten Island, New York Republican pleaded guilty to federal tax evasion.
Grimm, 44, is a former Marine and FBI agent who won reelection to the House in November after serving one term as congressman of New York's 11th District, which covers all of Staten Island and parts of Brooklyn.
In April, Grimm was accused of concealing more than $1 million in revenue and failing to report hundreds of thousands of dollars in employee pay at his Manhattan restaurant Healthalicious. He was scheduled to go to trial in February and face a 20-count indictment for paying workers – some of them undocumented immigrants – off the books with cash, underpaying his taxes and committing perjury in running the Upper East Side restaurant. He reached an agreement with federal prosecutors last week and pled guilty to one count on Dec. 23.
"This decision is made with a heavy heart, as I have enjoyed a very special relationship and closeness with my constituents, whom I care about deeply," Grimm said Monday, in announcing his resignation.
"The events which led to this day did not break my spirit, nor the will of the voters. However, I do not believe that I can continue to be 100 percent effective in the next Congress, and therefore, out of respect for the office and the people I so proudly represent, it is time for me to start the next chapter of my life."
Under the plea agreement, Grimm could face up to three years in federal prison. His sentencing is scheduled for June 8.
"Although it was a little restaurant, I made some big mistakes," he told reporters outside the Brooklyn federal courthouse following his guilty plea last week.
"Mistakes that I immensely, immensely regret, and that I am truly sorry for, but that I also accept full responsibility for all of those mistakes in every way. And as difficult as it is and it's difficult to admit when you're wrong, I was. I underreported the gross sales receipts of the restaurant to pay business expenses, including payroll for employees who were off the books. It's true."
Yet Grimm also signaled at the time a determination to stay in his congressional seat despite the mounting pressure to resign.
"As long as I'm able to serve, I'm going to serve," he said last week. "As of right now I'm still in a capacity to serve, and that's exactly what I plan on doing."
The case blossomed from a separate investigation into Grimm's campaign finances. Though he was never charged with any campaign-related offense, a woman romantically associated with Grimm pled guilty in September to illegally funneling money to his 2010 run for Congress. Grimm has denied any knowledge of the scheme.
In January, Grimm made waves for threatening a local TV reporter on camera. The reporter was interviewing Grimm before President Barack Obama's state of the union address when he asked about allegations concerning the federal inquiry into his campaign finances. Grimm, believing the question was an unfair ambush, said he would to throw the reporter over the balcony and "break [him] in half" if he ever asked about the federal investigation again.
Grimm's resignation will take effect after the 114th Congress convenes January 6. His absence will reduce the GOP majority in the House from 247 seats to 246. A special election will eventually decide Grimm's successor.
You can share this story on social media: