Autopsy reveals LAPD shot unarmed black man Ezell Ford in back, side, arm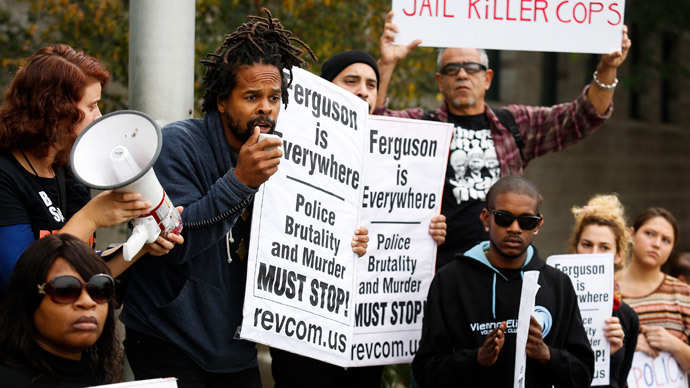 An autopsy into the killing of a 25-year-old unarmed mentally ill black man during a scuffle with LAPD officers earlier this year has revealed that Ezell Ford was shot three times at close range, with two wounds being fatal.
The autopsy from the coroner's office, which was released Monday, states that Ford was shot three times: in the right side, in the right back, and in the right arm. The report says the back and side wounds were fatal. The death was classified as a homicide after Ford died in the operating room.
Furthermore, the wound on Ford's back showed a "muzzle imprint," according to the autopsy, hinting that the shot was fired at a very close range.
Ford was fatally shot by police near his home on August 11, after an "investigative stop" resulted in a "struggle" that saw Ford end up facedown on the ground. The mentally ill man was then reportedly shot multiple times – despite witnesses claiming he was complying with police.
BREAKING: Autopsy of Ezell Ford, mentally ill man shot by LAPD 3 times: in right arm, right back and right abdomen. pic.twitter.com/DvwXhrc5cw

— Breaking News Feed (@PzFeed) December 29, 2014
The release of the coroner's report comes after months of delay. The LAPD initially postponed the release, claiming it was part of the ongoing homicide investigation.
Meanwhile, the parents of the victim, Edsell and Tritobia Ford, are suing the LAPD for $75 million, for allegedly racially profiling their son. According to his family, Ford suffered from schizophrenia, bipolar disorder, and depression.
READ MORE: 'Wake Up!' 1000s take to streets across US protesting police brutality
Ford's shooting added to growing tensions in the US that have led to a wave of peaceful protests aimed at denouncing police violence. Other unarmed black victims of alleged police brutality include Eric Garner and Michael Brown. The grand jury decision not to indict Wilson, the police officer who fatally shot Brown, unleashed a torrent of demonstrations across the entire country in November. It also garnered public reaction from across the globe, including from the UK and Japan.
This is #EzellFord. Shot and killed by 3 bullets from the LAPD. Autopsy went out today. Image: @KTLApic.twitter.com/1JkynjaSAZ

— Tyree Boyd-Pates (@TyreeBP) December 29, 2014
You can share this story on social media: