LAPD delays release of autopsy report in controversial shooting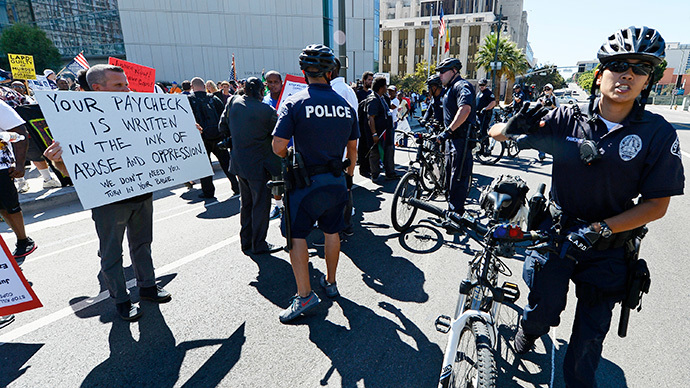 Those waiting for the preliminary autopsy report regarding the officer-involved death of a young, unarmed black man in Los Angeles are going to have to wait a little longer, as officials have delayed its release.
According to the Huffington Post, the Los Angeles Police Department (LAPD) have placed an "investigative hold" on the report detailing Ezell Ford's cause of death in order to preserve the integrity of witness testimony, which is still being gathered.
"Pending further investigative and forensic analysis, the LAPD Force Investigation Division investigators have requested that The Los Angeles County Coroner place an investigative hold on the pending autopsy report," the police department said on Monday.
Speaking with NBC Los Angeles, LAPD Chief Charlie Beck said the department is looking for additionally witnesses before the report is out in the public eye, adding that its release could potentially influence any statements given.
"The witness pool is very shallow at this point," he said. "I want to make sure we can get folks, we can get their unvarnished statements."
Though this type of delay is not uncommon, the LAPD has already been criticized by the Los Angeles Urban Policy Roundtable, which connected the decision to the Michael Brown case unfolding in Ferguson, Missouri. Brown was killed by a police officer just two days before Ford, and his death has triggered continuing protests against police brutality and excessive force.
"The blocking of the autopsy report of Ford comes on the heels of the release of the autopsy report on Michael Brown which contradicted the police version of how Brown was killed," the roundtable's Earl Ofari Hutchinson said on Monday. "The blocking of the release Ford autopsy report further fuels suspicions about the LAPD's version of the Ford killing."
As RT reported previously, the 25-year-old Ford was fatally shot by police after an "investigative stop" by police resulted in a "struggle" that saw Ford end up face down on the ground. Ford, who suffered from mental problems and was unarmed, was then reportedly shot in the back multiple times despite witnesses claiming he was complying with police.
"They laid him out and for whatever reason, they shot him in the back, knowing mentally, he has complications. Every officer in this area, from the Newton Division, knows that -- that this child has mental problems," an unnamed man claiming to be Ford's cousin told local KTLA News.
"The excessive force ... there was no purpose for it. The multiple shootings in the back while he's laying down? No."
The LAPD disputes this version of events, and has said Ford attempted to take an officer's gun as he struggled with police.
You can share this story on social media: