Walmart forced to increase minimum wage at 33% of US stores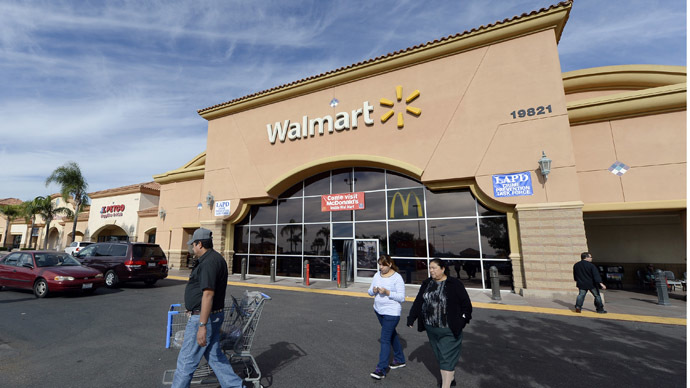 Walmart, America's largest private employer, is being forced to raise its minimum wage payments for workers. The move could improve the lives of roughly one-third of its 1.3 million employees and reduce the burden on the government.
Since 21 states have adopted minimum wage increases either via legislative pressure or ballot initiatives, Walmart must now adjust base salaries at a third of its locations, according to an internal memo seen by Reuters. The memo sent to store managers this month said the wage hikes are due to come into effect on January 1.
Walmart spokeswoman Brooke Buchanan told Reuters that the company is making the changes to "ensure our stores in the 21 states comply with the law."
Thirteen states lifted the minimum wage in 2014, up from 10 states in 2013 and eight in 2012. The minimum wage increased 17 percent in South Dakota, to $8.50, and rose two percent in Arizona, to $8.05.
READ MORE:Walmart employees rally across US for living wage (VIDEO)
The Walmart memo shows that there will be changes to its pay structure, including a narrowing of the gap in the minimum premium paid to those in higher skilled positions, such as deli associates and department supervisors, over lower grade jobs. It will also combine its lowest three pay grades – which include cashiers, cart pushers, and maintenance – into one base rate.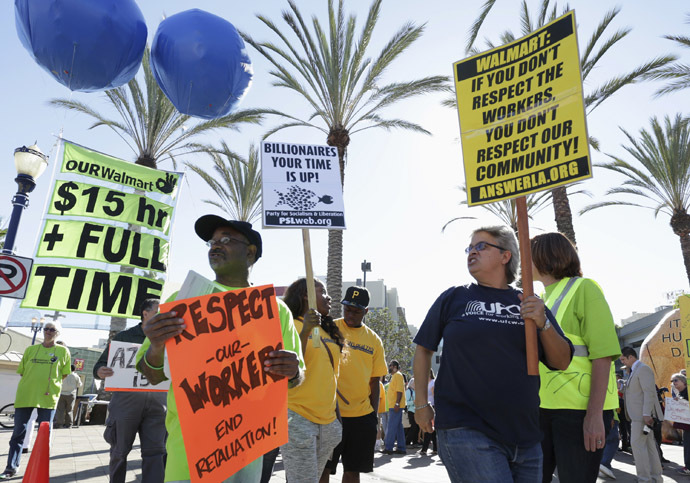 Many associates, warehouse laborers, and other low-wage workers depend on federal programs in addition to their Walmart jobs, and the company has been struggling to grow sales after many lower-income Americans lost jobs or income in the financial crisis.
The changes appear in part to be an effort to offset the anticipated upswing in labor costs, according to a manager who is implementing the changes at his store.
"Essentially that wage compression at the upper level of the hourly associate is going to help absorb that cost of the wage increase at the lower level," the manager, who spoke on condition of anonymity, told Reuters.
READ MORE:Walmart employees deliver chairman $7.8 bn 'tax bill' for company's tax breaks
Walmart's operating model is to keep costs under close control to attract consumers with low prices, and operate the corporation on tight margins. The company also avoids paying roughly $1 billion in taxes off its worldwide $21.4 billion in profit through federal tax loopholes, according to Americans for Tax Fairness.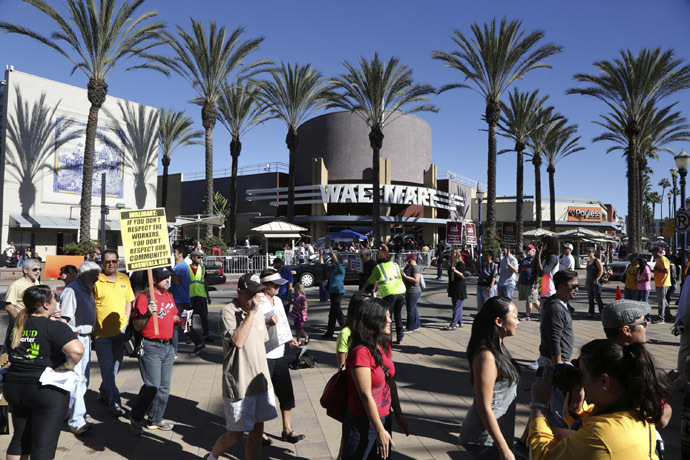 Until now, Walmart's low pay has meant that many of its employees depend on federal programs like Medicaid and food stamps to make ends meet. According to a 2013 congressional research report, "a single 300-employee Walmart Supercenter may cost taxpayers anywhere from $904,542 to nearly $1.75 million per year." The total cost of Walmart workers on federal programs is an estimated $6.2 billion.
READ MORE:Feds accuse Walmart of threatening, intimidating employees who protest company
That dependence on government subsidy, or the American taxpayer who provides the subsidy, is driving a group of workers backed by labor unions to demand that Walmart, fast-food chains, and other retailers pay at least $15 an hour.
Walmart estimates its average full-time hourly wage is $12.92, and says that it pays competitive wages and offers its employees ample opportunity for advancement. However, most people aren't hired as full-time workers and need government benefits to make up the difference.
Walmart said last month that an investment in wages, along with higher healthcare costs, drove a 3.5 percent increase in operating expenses in its most recent quarter.
You can share this story on social media: