Feds accuse Walmart of threatening, intimidating employees who protest company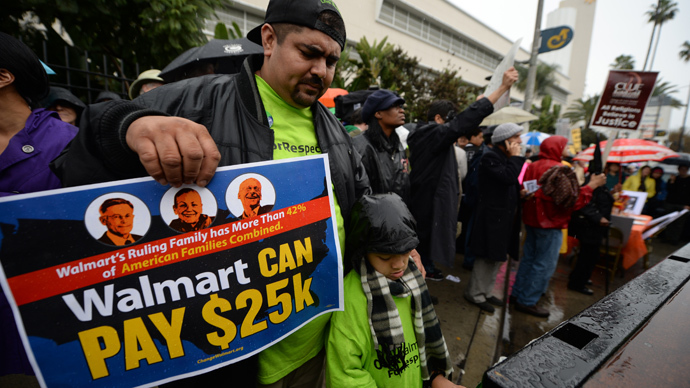 Federal officials issued a complaint against Walmart Wednesday, formally charging the corporate monolith of breaking US labor law when it attempted to break up Black Friday protests organized by its workers.
The National Labor Relations Board (NLRB), which is responsible for enforcing labor laws that apply to businesses as well as union organizations, accused Walmart of illegally threatening and punishing workers who expressed interest in participating in the post-Thanksgiving strikes.
These allegations come on the same week that Occupy Wall Street released internal corporate documents revealing how Walmart allegedly works to keep unions out of its stores, including the selective enforcement of company policy and purportedly illegal actions like coercive interviews.
In the days following the Black Friday demonstrations, company employees in a number of states filed complaints with the NLRB. The agency is known to generally prefer settling with companies out of court, but the general counsel of the board "found merit" with many of the claims and failed to reach an agreement with Walmart executives.
Among the complaints was one that accused company spokesman David Tovar of threatening employees during an appearance on CBS Evening News, when he said "there could be consequences" for employees who attend the nationwide protests.
"We've never seen a complaint against Walmart of this size or scope, and we're glad the NLRB is taking action," said Sarita Gupta, executive director of the labor organization Jobs With Justice. "Walmart's attacks on its own employees cannot go unchecked."
Dominic Ware is a former Walmart employee named in the complaint. He told the Huffington Post he was fired after joining in multiple California demonstrations last spring. Ware said he was fired in July, and has since praised the NRLB's decision to stand up for people who had similar experiences to his own.
"It's just validating everything," said the 27-year-old. "There were people who doubted the truth of what we were saying. To have it backed up by the federal government is just unbelievable."
Walmart has until January 28 to respond to the complaint, and the company may still reach a settlement before that time.
"Walmart now has the opportunity to share the facts in these specific cases with an administrative law judge," Brooke Buchanan, a Walmart spokeswoman, told the Huffington Post. "We've been in continued conversations with the NRLB on this matter since it was announced in November, and we will continue to be."
OUR Walmart is one of the workers groups that advocates on behalf of Dominic Ware and the thousands of employees who feel they have been wronged by the company. OUR Walmart is not a union, but its growing influence throughout the chain apparently has executives worried enough that they compiled a training module seeking to inform workers that OUR Walmart is "not really here to help you."
The documents, leaked to Occupy Wall Street from an unknown source and published Tuesday, also pleaded with salaried managers to "report union activity to the Labor Relations Hotline immediately" and to "support Walmart's position on how we treat people."
The training pages went on to suggest managers try to detect "Early Warning Signs" that an employee is deviating from the company line by listening for those who are "speaking negatively about wages and benefits" or "ceasing conversations when leadership approaches."
To combat such a situation, managers should consult a list of suggested talking points. One of which being: "In my opinion, unions just want to hurt Walmart and make it harder to run our business."
A Walmart spokesperson confirmed to MSNBC that the slides were authentic, saying only that "communications like these that we're talking about are important to make sure our associates are receiving accurate and timely information."
You can share this story on social media: