225 dogs seized as police break up multistate dog-fighting ring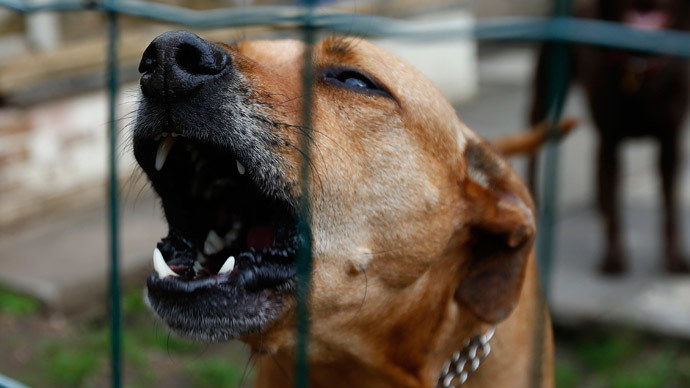 A police raid at more than a dozen homes exposed an East Coast dog-fighting ring involving 225 dogs. Twenty-two people were indicted, with at least 14 facing charges of animal cruelty, dog fighting, and conspiracy.
Baltimore police armed with search warrants raided 15 houses and other properties, as well as a compound in West Virginia, following a year-long investigation. Prosecutors said 22 men were involved in a vast dog-fighting ring that operated in basements and backyards in the Baltimore area.
READ MORE:Canine as a search warrant? SCOTUS to debate dogs vs Fourth Amendment
Authorities recovered 225 dogs, including 50 puppies and at least 20 weapons. Police also seized breaking sticks, heavy chains, conditioning harnesses, steroids, surgical equipment, weighted collars, and breeding stands, which prosecutors say dog fighters refer to as "rape stands."
"To make these dogs more lethal, dogfighters deployed disturbing methods, sometimes forcing their dogs to wear weighted collars in scorching weather and cutting off their ears so opponents have less flesh to seize on with their teeth," said Thiru Vignarajah, chief of the major investigations unit at the Baltimore City State's Attorney's Office.
"These indictments bring into the light a form of brutality that for too long has unfolded in the forgotten basements and backyards of Baltimore and beyond," Vignarajah added. Prosecutors say a tip led them to the ring.
Vignarajah said the operation was an "unforgiving underworld" where dogs were trained to fight for entertainment and financial gain. Dog fighting earnings sometimes surpassed $100,000.
READ MORE:Who let the dogs vote? The State of New Mexico!
According to the Baltimore Sun, in June 2013 police found several scarred pit bulls chained up with no access to water. As the months went on, investigators began to piece together members of the ring, discovering injured and neglected dogs, as well as dogfighting training equipment, steroids, and surgical supplies at various homes.
"I am a strong believer that there is no dog bred to do this," Baltimore Police Lt. Col. Sean Miller said.
READ MORE:All dogs go to heaven: Pope Francis says animals will enter pearly gates
What's unclear is the fate of some of those recovered animals. The Baltimore Sun reports that 85 have been taken to shelters, where authorities must now figure out how many should be put down, and how many can be adopted.
"Each and every dog is assessed individually by a professional," Baltimore police spokesman Lt. Eric Kowalczyk told the Sun. "Every effort is made to rehabilitate and place them for adoption. As a general rule, many dogs including all puppies and young dogs do end up in loving families as a result of their effort."