Stay in psychiatric hospital not enough to prevent gun ownership - appeals court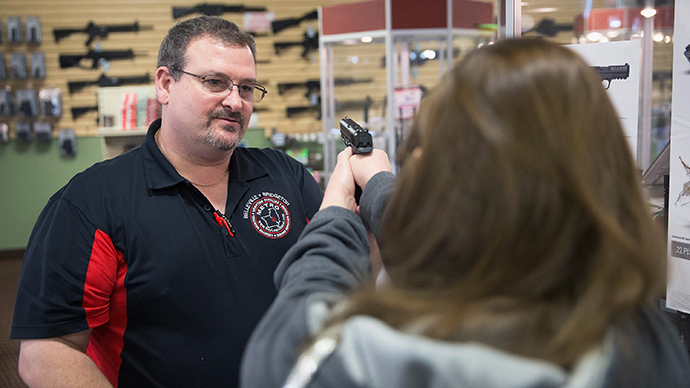 A Michigan man who was once institutionalized in a psychiatric facility – but has not suffered from mental illness in nearly three decades since ‒ cannot be prevented from owning a firearm, a federal appeals court ruled.
A three-judge panel of the Sixth US Circuit Court of Appeals ‒ all of whom were appointed by Republican presidents ‒ unanimously ruled Thursday that the federal ban on gun ownership for anyone who has been "adjudicated as a mental defective or who has been committed to a mental institution" violated the Second Amendment rights of Clifford Charles Tyler, a 73-year-old Hillsdale County, Michigan man.
In 1985, Tyler's wife of 23 years served him divorce papers. Prior to filing for divorce, Tyler's ex-wife allegedly ran away with another man and depleted Tyler's finances. Tyler felt "overwhelmed" and "sat in the middle of the floor at home pounding his head," the court documents said. He said he was crying non-stop, not sleeping, depressed, and suicidal at this time. His daughters became scared and contacted the police. A probate court involuntarily committed the then-43-year-old to a treatment facility.
According to federal law, he could no longer own a gun due to this depressive episode:
It shall be unlawful for any person... who has been adjudicated as a mental defective or who has been committed to a mental institution... to ship or transport in interstate or foreign commerce, or possess in or affecting commerce, any firearm or ammunition; or to receive any firearm or ammunition which has been shipped or transported in interstate or foreign commerce.
-18 U.S.C. § 922(g)(4)
In February 2011, Tyler attempted to purchase a firearm. The Hillsdale County Sheriff's Office informed Tyler that he was ineligible to purchase a firearm because the FBI's National Instant Criminal Background Check System (NICS) indicated that Tyler had previously been committed to a mental institution. He appealed the decision, but was denied.
The denial letter said that NICS Improvement Amendments Act of 2007 "provides states with the ability to pursue an ATF-approved relief of disability for individuals adjudicated as a mental defective or who have been committed to a mental institution."
The letter further stated: "Until your state has an ATF approved relief from the disabilities program in place your federal firearm rights may not be restored." The letter did not mention that federal law allows Tyler to apply directly to ATF for relief but that Congress denied funding for a federal relief-from-disabilities program.
Tyler sued. US District Judge Gordon Quist dismissed the case, determining that lawmakers purposely made it difficult for those with mental illness in their past, no matter how long ago, to legally own a gun.
But the federal appeals court disagreed, remanding the case back to the lower court. Circuit Judge Danny Boggs wrote for the three-member panel, "[W]hether Tyler may exercise his right to bear arms depends on whether his state of residence has chosen to accept the carrot of federal grant money and has implemented a relief program.… An individual's ability to exercise a fundamental right necessary to our system of ordered liberty cannot turn on such a distinction."
Boggs cited heavily from the Supreme Court's 2008 District of Columbia v. Heller decision in the ruling, despite the high court's "own views on gun ownership by the mentally ill," ThinkProgress noted. "In District of Columbia v. Heller, the Court's seminal Second Amendment decision, Justice Antonin Scalia wrote for the Court that 'nothing in our opinion should be taken to cast doubt on longstanding prohibitions on the possession of firearms by felons and the mentally ill'."
Boggs, however, argued that a ban on gun possession by people with mental illnesses is different than a one applying to people who have previously been committed, but have no recurring symptoms. The "two categories," Boggs concluded, are not "coextensive."
Gun ban for committed people violated Second Amendment rights of Michigan man, 6th Circuit rules http://t.co/Yj6CEnoTTS

— Lawyer News (@Lawyer_News_) December 22, 2014
Lucas McCarthy, Tyler's attorney, called the ruling "a forceful decision to protect Second Amendment rights," and told the Wall Street Journal that he hoped it that it would have "a significant impact on the jurisprudence in the area of gun rights."
McCarthy said his client will continue to fight for his right to own a gun, the Grand Rapids Press reported. He outlined possible paths the case could take in light of the ruling: The federal government could request a rehearing en banc, with all judges in the Sixth Circuit reviewing the three-judge panel's ruling, or appeal to the Supreme Court. The government could choose not to challenge the decision and allow the case to be remanded to District Court, where Tyler would still have to prove that he should be allowed to have a firearm. But if the government contests the case in District Court, it could result in a costly legal fight, with both sides hiring mental-health experts to offer opinions.
The ruling raises questions about how the decision might be interpreted in the future, such as whether allowing those who have been committed in the past to own guns on a case-by-case basis would lead to the ban being struck down for all persons with mental illnesses who wish to own firearms.
"Tyler's situation is one that most people could sympathize with – breakups, especially divorces, can be incredibly painful and difficult – and an isolated incident during a rough patch decades ago shouldn't automatically disqualify someone from owning a gun," Amy Eddings at Ring of Fire Radio wrote. "Each case is different. But this decision could possibly open a door for those with serious mental illnesses to own firearms, which could lead to dangerous situations down the road."
The case also raises questions about the constitutional basis for restrictive gun laws applying to other settings and for other classes of gun owners, Adam Winkler, a University of Los Angeles law professor, said in an e-mail to Bloomberg.
"If seriously applied," Winkler said, "this ruling could mean invalidation or narrowing of laws banning felons from having guns and restricting guns in school zones."