Senator urges Obama to host White House screening of 'The Interview'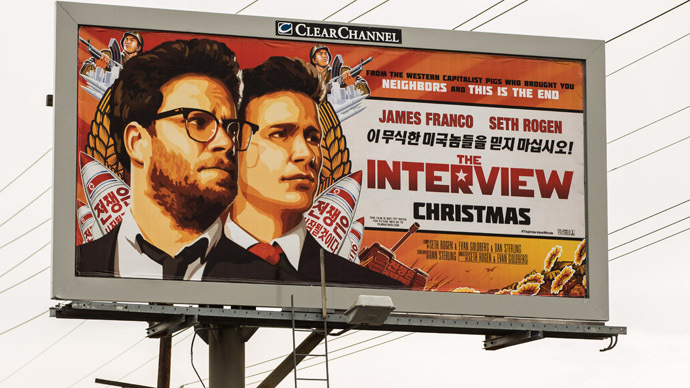 ​American audiences likely won't be able to see "The Interview" anytime soon after Sony's decision to pull the film from theaters last week over concerns, but congressional lawmakers may luck out if one politician has his way.
Senator David Vitter (R-Louisiana) has written President Barack Obama with the aim of getting the White House to screen the recently nixed comedy to prove the US "will not bend to the will of bad actors."
"The policy of rewarding terrorists, authoritarianism and cruelty with concessions should not be the legacy we pursue. Therefore, I ask that you host a screening of comedy film 'The Interview' for members of Congress in the White House the week of January 5, to be followed by a serious discussion of the strong, substantive retaliatory measures we plan to take as a nation against cyber attacks,"Vitter wrote.
The letter, dated Friday, was sent on the same day the FBI and White House both acknowledged after weeks of deliberation that North Korea was involved in the recent computer hack suffered by Sony Pictures, and subsequent warnings against letting "The Interview" play in theatres.
Scheduled for release Christmas Day, Sony pulled "The Interview" one week ahead of its slated opening after receiving threats of "9/11-style" attacks at cinemas screening the flick, a comedy, in which North Korea President Kim Jong-un is assassinated. Pyongyang has not accepted responsibility for the attack, but said the hackers involved in the breach committed a "righteous deed."
READ MORE: FBI formally accuses North Korea in Sony hack
After the FBI said early Friday that Kim's regime is responsible, Pres. Obama addressed the issue during a White House press conference and vowed retaliation.
"We will respond proportionally and we will respond in a place and time and manner that we choose," Obama said.
Meanwhile, Vitter's letter is among the latest to reject the recent decision to pull the film prior to release. Hollywood stars spoke up last week when movie theatres first started announcing plans not to play "The Interview," and even Obama said during Friday's address that he disagreed with Sony's decision to pull the film entirely.
"I wish they would've spoken with me first. I would have told them: do not get into a pattern in which you're intimidated by these kinds of criminal attacks," he said.
Indeed, Vitters wrote the president soon after to say that Washington and Hollywood must both be more defiant.
"Given the success of having their demands met, North Korea and other rogue actors are likely to be emboldened. They will be encouraged to ramp up anti-US internet terrorism, which is viewed as a safer, affordable and now effective method of making demands. A strong message needs to be delivered to reassure the American people and US businesses that we will not bend to the will of bad actors, whether they are hackers, terrorist, state-sponsors of terrorism or nation states," the senator wrote, adding later in his letter that the White House's recent decisions to transfer Guantanamo Bay detainees and adopt policy changes with respect to Cuba — combined with Sony's balking — do little to demonstrate any success as out of the administration as of late.
READ MORE: Obama chides Sony's decision to nix film, says US must retaliate and pass cyber act
Some individuals, however, are indeed capitalizing on the recent Sony snafu to try and get new projects off the ground. Atlanta, Georgia-based developers have raised more than $8,000 since last Wednesday to go toward crowd-funding a Kim Jong-un video game, and Hustler publisher Larry Flynt said on Friday that he'll be starting production soon for a porn parody of "The Interview."
"I've spent a lifetime fighting for the First Amendment, and no foreign dictator is going to take away my right to free speech," Flynt told the Hollywood Reporter. "If Kim Jong-un and his henchmen were upset before, wait till they see the movie we're going to make."
You can share this story on social media: