Obama signs Russia sanctions bill, no plans to use it for now
US President Barack Obama has signed a bill that will allow the White House to levy further economic sanctions on Russia over Ukraine, though the Administration has said it has no immediate plans to introduce them.
"My administration will continue to work closely with allies and partners in Europe and internationally to respond to developments in Ukraine and will continue to review and calibrate our sanctions to respond to Russia's actions," Obama said in a statement. "At this time, the Administration does not intend to impose sanctions under this law, but the Act gives the Administration additional authorities that could be utilized, if circumstances warranted."
"We remain prepared to roll back sanctions should Russia take the necessary steps," he added.
Obama urged for a "diplomatic solution" in accordance with the ceasefire signed in Minsk, which has not been fully complied with, by either the forces of the Kiev government or the Donbas region, where over 4,000 people have died in a conflict that has raged since spring.
"We again call on Russia to end its occupation and attempted annexation of Crimea, cease support to separatists in eastern Ukraine, and implement the obligations it signed up to under the Minsk agreements," Obama said.
The sanctions were to hit Russia's state-owned energy and defense companies.
US entities would be forbidden from investing in gas giant Gazprom, and the company would face additional sanctions if it broke off supplies to key eastern European countries, with whom it has squabbled repeatedly over price. Other sanctions would involve Russia's arms exporter Rosoboronexport.
Perhaps most crucially, organizations in the country's embattled financial sector would be barred from dealing with any US banks, a measure similar to that faced by Iran at the low point of the fallout over its nuclear program.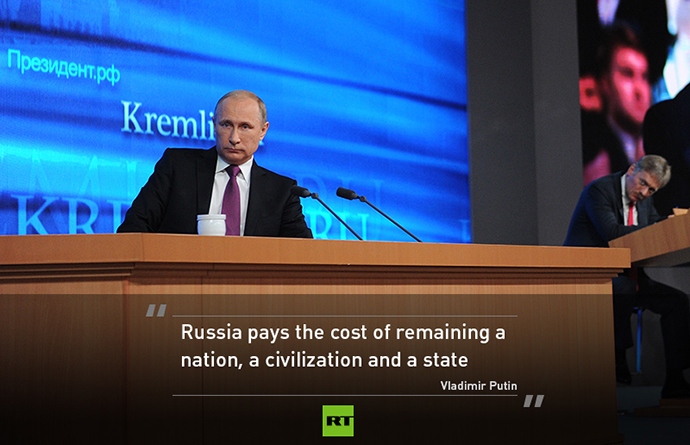 In a related move, the bill authorizes Obama to supply anti-tank weapons, surveillance drones and other sophisticated equipment for Petro Poroshenko's government in Kiev, though White House officials said the President had no immediate plans to allow US weapons to be used to put down the uprising in the east of the country.
Speculation has raged all week about whether new harsh sanctions would augment the existing measures, which already hamstring Russian companies' ability to borrow money in the West, as well as restricting economic co-operation and preventing senior Kremlin and Crimea officials from traveling to the US and Europe.
READ MORE: Russian economy will inevitably bounce back, 2 years in worst case scenario - Putin
But two factors appear to have put a brake on the plan. Obama is loathe to impose new measures without backing from Brussels, where there is no unity on the need for future sanctions, with Francois Hollande even suggesting on Thursday that existing ones should be lifted, if Russia displays positive "gestures."
Secondly, the Russian rouble has collapsed over the past week - partly due to oil prices - meaning it has performed worse than any other currency against the dollar since the turn of the year. More than $87 billion of Russia's foreign currency reserves has been used to prop up the ruble in 2014.
READ MORE: 'Can't stuff this bear' & other Putin Q&A quotes
Vladimir Putin hit back at the measures during his annual televised press conference on Thursday, accusing the West of wanting to "chain" and "de-claw the Russian Bear."
You can share this story on social media: