US lieutenant jailed for deserting Army, joining French Foreign Legion to fight in Africa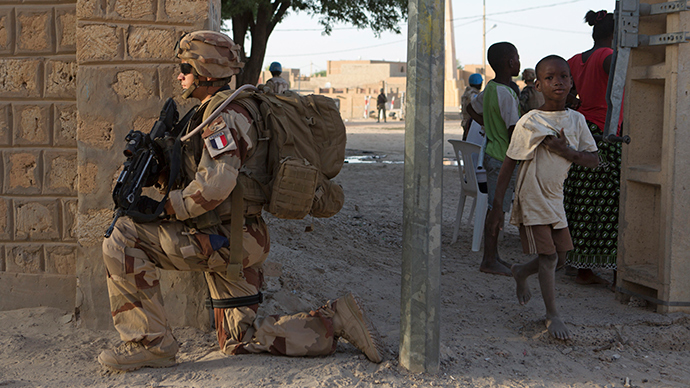 An American soldier who abandoned his army unit in 2009 to join the French Foreign Legion has been convicted of desertion and sentenced to four years in prison by the US military.
Second Lieutenant Lawrence Franks told a military court that suicidal thoughts drove him to seek the Legion and its reputation for a hard-nosed regimen. He said joining the Legion, a wing of the French military originally created for foreign nationals, seemed the only way to battle depression, according to the New York Times.
"I needed to be wet and cold and hungry," he told the Times before he was sentenced Monday. "I needed the grueling life I could only find in a place like the legion."
Franks deserted his unit at Fort Drum in upstate New York in 2009, flew to Paris, and signed up with the French Foreign Legion on a five-year contract under the name Christopher Flaherty.
Franks was deployed to the Central African Republic and Djibouti. For five months, he also served as personal security guard for General Laurent Kolodziej, who led the French military assault against Al-Qaeda-associated militants in Mali.
"He is a man I will never forget and by whom I will always stand," Kolodziej said in video testimony during Franks' court martial.
"He is more than a born soldier, he is a born gentleman. I would like to have 10 men like that in my team, and I would be the happiest of generals."
Upon completing his five-year run with the Legion in March 2014, he turned himself in to the US Army in Germany, according to the Times.
Franks graduated from the US military academy at West Point near the top of his class.
Though he battled depression after leaving the academy. He was sent to Fort Drum and assigned to lead a medical platoon.
US military prosecutors alleged that Franks' departure caused problems for his platoon mates, adding that he left intentionally just before his unit was to deploy to Afghanistan.
Franks said, though, that the unit was not due to deploy for nearly a year, and that he could not wait that long.
"I feel really bad for the pain I put on my family, the disruption to my unit," he said. "But I don't regret what I did - any of it, good or bad - because it saved my life."