Black choppers rattle Dallas skyline in urban training drills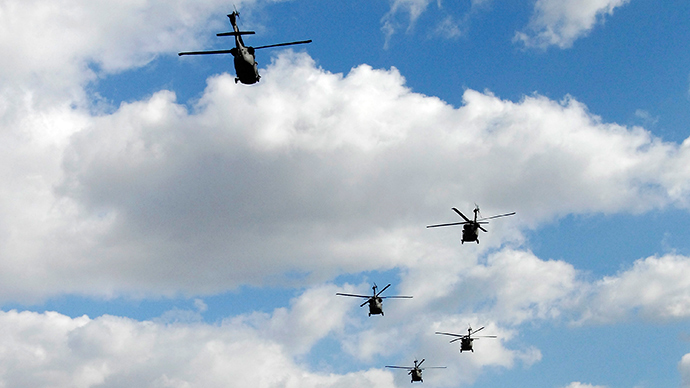 Dallas residents have taken to social media to express alarm over a swarm of black helicopters that have descended upon their neighborhoods, part of a US Special Forces drill to prepare for future engagement in urban areas.
Beginning Monday morning, Dallas residents went online to report a surreal spectacle that seems more consistent with conspiracy-theory lore than reality: Black helicopters with their lights switched off buzzing the rooftops of this Texas city of 1.2 million people.
READ MORE:Drone-only: US Army builds $33mn UAV airport in Texas
Unbeknown to many residents, the sinister-looking sight was the initial phase of US Special Operations Forces training in "realistic urban sites" scheduled to run for the next two weeks.
Oh, just an average Monday night, sitting on the patio, watching black helicopters (with no lights on) fly overhead....

— catherine downes (@catdownes) December 16, 2014
According to local news reports, the training missions may move beyond Dallas.
"North Texas police departments are letting the forces conduct urban training across the region over a two-week span," The Dallas Morning News reported.
The helicopters flying low and fast with no lights on over my place all night long is really in unnerving. #Dallas

— Erol (@yenibey) December 16, 2014
#specops helicopter/urban warfare training in Uptown #Dallas... 10:39 PM on a Monday and at least 4 helos off Turtle Creek. Wow.

A video posted by Adam Rizzieri (@theadamrizz) on Dec 12, 2014 at 4:04pm PST
Am I missing something in the news in Dallas? Why are there five helicopters flying repeatedly over my loft district????????

— Nicole-Michele (@IHeartDallasArt) December 16, 2014
Meanwhile, the Dallas police department issued a statement on behalf of the Special Forces requesting that the public "remain clear of these areas while training is conducted" to ensure the "safety of the public and trainees."

These types of military missions are becoming increasingly familiar sites in cities across the United States, oftentimes without any prior public notice or explanation.
Los Angeles was also the staging ground for an urban-combat training drill. Yesterday, the 15th Marine Expeditionary Unit wrapped up two weeks of training involving some 2,400 marines and sailors.
.@RobertWilonsky@clairezcardona five #lightsout#blackhelicopters just buzzed the Oak Lawn area so low we could smell their exhaust.

— Daniel Rodrigue (@danielrodrigue) December 16, 2014
In the course of the urban warfare training, "residents could see as many as six military helicopters buzzing over the downtown area," CBS reported last week.

In May, residents of Florence, Kentucky, reported seeing "black ops" helicopters flying over parts of the town, also operating without lights, according to 700 WLW radio.
You can share this story on social media: