LA porn condom law upheld, similar to G-string mandates for strippers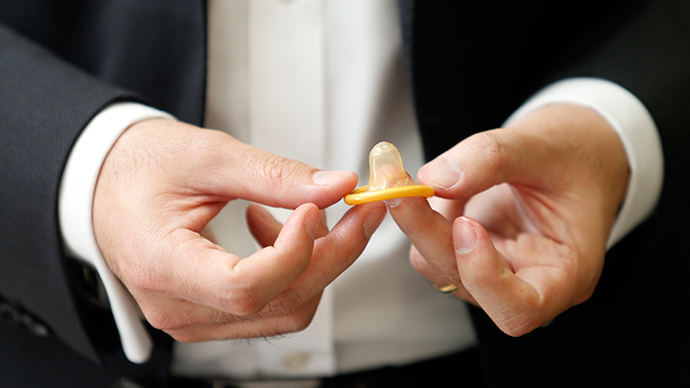 A Los Angeles law requiring adult film stars to wear condoms is similar to those mandating that erotic dancers wear pasties and G-strings, a federal appeals court ruled, finding that the law did not violate the porn industry's First Amendment rights.
In November 2012, Los Angeles County, California voters passed a ballot initiative ‒ called Measure B ‒ requiring actors in adult movies to wear condoms while performing on set. Porn film producers, led by Vivid Entertainment and Califa Productions, challenged the law in court, calling it an unconstitutional infringement on their freedom of expression. When a US district court sided with the county, the industry appealed to the Ninth Circuit Court of Appeals.
Judge Susan P. Graber, writing for the three-member panel's majority, also sided with the government and the AIDS Healthcare Foundation, which sponsored the initiative and also served as a defendant.
"The condom mandate survives intermediate scrutiny because it has only a de minimis effect on expression, is narrowly tailored to achieve the substantial governmental interest of reducing the rate of sexually transmitted infections, and leaves open adequate alternative means of expression," Graber noted.
The purpose of Measure B is to decrease the spread of sexually transmitted infections among performers within the adult film industry, thereby stemming the transmission of sexually transmitted infections to the general population among whom the performers dwell, according to the court documents.
It requires producers of adult films to pay a fee, provide the health department with proof that certain employees have completed a county-approved training program concerning blood-borne pathogens, and display the permit while filming. It also requires producers to post a notice at the film site that the use of condoms is required and for them to comply with all applicable laws, namely "barrier protection for all employees who are exposed to blood-borne pathogens, which Measure B interprets to require condoms for performers who engage in vaginal or anal intercourse." Provisional permitting fees are $2,000 to $2,500 per year.
The industry argued that "condomless sex differs from sex generally because condoms remind the audience about real-world concerns such as pregnancy and disease," forcing viewers out of the erotic fantasies to which they are trying to escape.
But the appeals panel found that "whatever unique message Plaintiffs might intend to convey by depicting condomless sex, it is unlikely that viewers of adult films will understand that message," Graber wrote. "So condomless sex is not the relevant expression for First Amendment purposes; instead, the relevant expression is more generally the adult films' erotic message."
Much of the decision compared the voter initiative with laws upheld by the US Supreme Court concerning strip clubs.
"The requirement that actors in adult films wear condoms while engaging in sexual intercourse might have 'some minimal effect' on a film's erotic message, but that effect is certainly no greater than the effect of pasties and G-strings on the erotic message of nude dancing," Graber wrote.
In the Supreme Court's City of Erie v. Pap's A.M. decision in 2000, the high court concluded that a general ban on public nudity, which required erotic dancers to wear at least pasties and a G-string while dancing, did not violate the First Amendment. The Ninth Circuit upheld a similar requirement that dancers stay at least two feet away from patrons during their performances.
The adult film industry also argued that Measure B duplicates a voluntary testing and monitoring scheme that already is in place in the industry. But Graber, like the district court before her, found that assertion contradictory, citing evidence that the industry's testing scheme is ineffective.
At the end of August, pornography production in the United States was effectively put on hold after one of the largest trade groups in the industry, the Free Speech Coalition, called for a voluntary moratorium on filming because an adult performer tested positive for HIV.
Vivid Entertainment and Califa Productions claimed that the ban is largely ineffective because makers of adult films can produce films across county lines without having performers wear condoms. But they also argued that Measure B has drastically reduced the number of adult films produced by the industry because the productions, which depend heavily on the "regular" film industry's infrastructure in Los Angeles County, cannot thus be moved elsewhere.
Adult Film Industry Loses Appeal Over Los Angeles' Condom Law - http://t.co/ImK9HiAgtFpic.twitter.com/BTVsZ10qxR

— captain Godspeed (@captaingspeed) December 15, 2014
Permits issued for adult entertainment productions in Los Angeles plummeted to just 40 last year ‒ a decline of 90 percent ‒ according to data announced in August by FilmL.A. Inc, the nonprofit group that handles film permits for the city and county. As many as 5,000 porn productions were shot in LA in 2011, according to the Los Angeles Times, which predicted that LA County would likely only issue 35 porn permits this year. Productions have moved to San Francisco, Las Vegas, Florida, Brazil and Eastern Europe.
"Today's ruling by the 9th Circuit is a total vindication of AHF's position," Michael Weinstein, executive director of the AIDS Healthcare Foundation, said in a teleconference. "We've been having this discussion for years. Now it's a question of enforcement. I think one of the most important things the court did today is they said it's clearly a public health interest."
But the ruling should not be viewed as determining the constitutionality of all of Measure B, said Diane Duke, executive director for the Free Speech Coalition.
"We have spent the last two years fighting for the right of adult performers to make their own decisions about their bodies, and against the stigma against adult-film performers embodied in the statute," Duke said. "Rather than protect adult performers, a condom mandate pushes a legal industry underground where workers are less safe. This is a terrible policy that has been defeated in other legislative venues."
The coalition has said performers won't necessarily be safer with condoms because they can break, the Los Angeles Times reported.
Weinstein is pushing for a statewide condom rule for porn films. Measures to do so have failed twice in the California legislature, most recently in January.
You can share this story on social media: