Texas cop tasers elderly motorist over license plate sticker (VIDEO)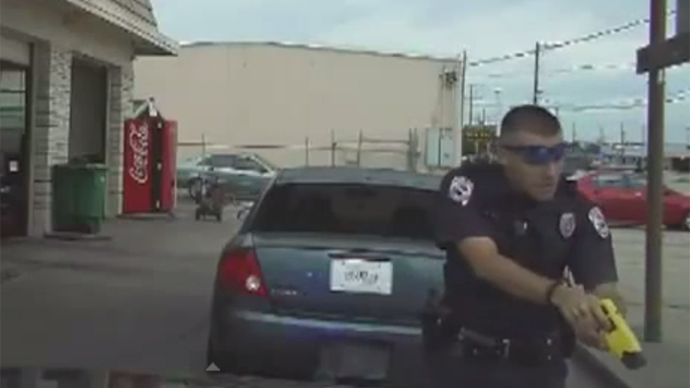 The Victoria Police Department in Texas is under fire after one of its officers reportedly used a Taser against a 76-year-old man who was stopped for a vehicle inspection issue over his license plate.
However, there was no need for the man to be stopped in the first place.
The incident began when Victoria officer Nathanial Robinson, 23, pulled over Pete Vasquez for driving with an expired inspection sticker. Vasquez, who is a mechanic, was driving a vehicle that belonged to a car dealership. The elderly man tried to explain to Robinson that dealer plates are exempt from an inspection.
In video footage captured by Robinson's dashcam, Vasquez can be seen exiting his car and pointing towards his license plate.
Unconvinced by Vasquez's explanation, though, Robinson is then seen grabbing the man's arm and seemingly tries to make an arrest. Vasquez tries to pull his arm away, but Robinson becomes more forceful, pushing the man to the hood of the police vehicle and taking him to the ground.
Although the two are then out of the camera's view, Robinson used a Taser against Vasquez two times, police confirmed to the Victoria Advocate. The next time Robinson is seen in the dashcam footage, he is holding the stun gun.
"He just acted like a pit bull, and that was it," Vasquez said to the newspaper. "For a while, I thought he was going to pull his gun and shoot me."
Once more officers arrive at the scene, Vasquez is heard talking to a sergeant, who asks what happened.
"He grabbed me and threw me on the pavement there. I almost knocked my head on that damn pole," Vasquez said. "And then he started Tasing me."
Since the incident occurred, Robinson has been placed on administrative duty, AP reported. An investigation is also underway. Police also confirmed that Vasquez's car was exempt from inspection.
WOW this video is amazing | Texas Cop Nathanial Robinson Uses Stun Gun On Elderly Man Over Inspection Sticker http://t.co/NpuL3MUPYH

— James Miller (@MillerMENA) December 15, 2014
The confrontation between Vasquez and Robinson was also witnessed by at least two others, who said the officer acted irresponsibly.
"I told the officer, 'What in the hell are you doing?' This gentleman is 76 years old," recalled sales manager Larry Urich to the Advocate. "The cop told me to stand back, but I didn't shut up. I told him he was a goddamn Nazi Stormtrooper."
While Vasquez was in custody for hours, he was released without being charged. The Victoria police chief also apologized to him in person.
News of the incident sparked anger and outrage online and on the department's Facebook page, where a post sought public comments.
"We place incredible value in public trust and have worked diligently to build that trust," the post reads. "In the interest of transparency, and knowing that many of you are looking for an outlet to express your feelings on the matter, we are creating this post to allow your comments to be heard."