Massive blaze in downtown LA: 250 firefighters, 2 major freeways closed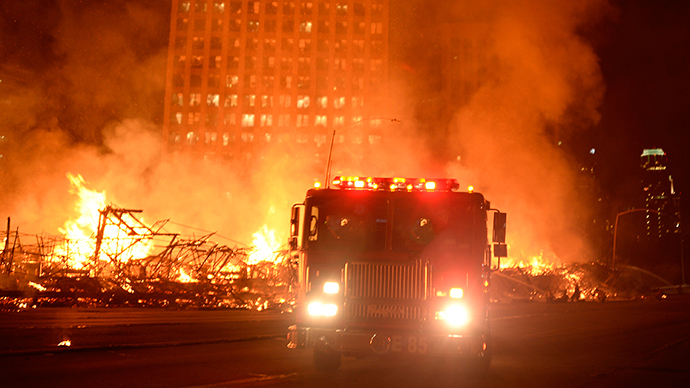 A massive fire has engulfed an apartment building under construction in downtown Los Angeles.
12/8 fire that is burning apartments under contruction in downtown LA: pic.twitter.com/iTczzWjdC1" #fb

— Licha (@Licha77x7) December 8, 2014
RT @London_McCall: RP of a huge fire that broke out in Downtown LA... praying no one got hurt. pic.twitter.com/6lCAyZp8hd

— Lajouetreine (@lajouetreine) December 8, 2014
According to the Los Angeles Fire Department (LAFD), firefighters were battling the blaze at the corner of Temple and Fremont streets, the Los Angeles Times reports. The LAFD has subsequently tweeted the exact location of the incident.
*Major Emergency Fire* 909 W. Temple St 90012; MAP https://t.co/dkTZDVlqVT; apartment building under construction.; Ch:09,13 @ 1:20 AM

— LAFD (@LAFD) December 8, 2014
From the latest reports, it appears they are finally getting it under control. However, according to the LA Times, two adjacent buildings have been damaged in the blaze as the heat being emitted has burst their windows.
"When they came out of the quarters they could see it was fully engulfed," fire department spokeswoman Katherine Main told the paper. "It was a building under construction in the framing phase. Almost 1 million square feet and a city block."
Your @LAFD working a major emergency apartment bldg under construction downtown. pic.twitter.com/bDkL9s82Ut

— Chief Terrazas (@LAFDChief) December 8, 2014

.
DTLA is on fire! #dtlafire #dtla #fire

A video posted by Man Called Sun (@rkidkin) on Dec 12, 2014 at 1:52am PST
.
Wow, amazing video of cars going past the Downtown LA fire (Video: via Koa Paden) https://t.co/boJeTzpWKT via @vine

— Danny Sullivan (@dannysullivan) December 8, 2014
The fire apparently broke out in an apartment complex under construction near the four-level freeway interchange junction on the northern edge of downtown. A picture of the site is available on Google Maps. The building was intended to be an upscale residential building with commerical space on the lower level.
"@rConflictNews: According to the LA Fire Department, this is where the fire is in the city. 900 W Temple St #LAFirepic.twitter.com/tfaHPy7b2Y"

— MilitaryMaps_En (@MilitaryMaps_En) December 8, 2014
BREAKING: A huge fire has engulfed an apartment complex in Downtown LA. Please steer clear of area. #LAfirepic.twitter.com/ErjlKqVjey

— #ThatGuyTy (@TyreeBP) December 8, 2014
Omg. Insane fire in downtown LA off the 101. pic.twitter.com/oUw5B1lR3g

— Nickolaus Sugai (@nicksugai) December 8, 2014
Here's a close up shot of the building burning tonight in Downtown LA http://t.co/6hEmoEwSGWpic.twitter.com/OIc2O1oMXT

— Jon Passantino (@passantino) December 8, 2014
LAFD spokesman David Ortiz told the LA Times that some 250 firefighters had been dispatched to extinguish the blaze, which he characterized as "huge."
Due to the size of the fire and the logistical issues necessary to put it out, the 101 Freeway nearby is closed in both directions, he said. The California Highway Patrol says that transition lanes between the 110 and 101 have also been shut down. No injuries have been reported.
Social media users in the city have been quick to post pictures of the pillar of fire reaching up into the night sky, with some taking a more ominous interpretation of the blaze.
I was driving back home when I saw LA catching on fire, didn't notice the picture till I got home pic.twitter.com/TFcWnrhqSF

— Cris;) (@cristobal1919) December 8, 2014
LA is burning RT @elliotwagland It looks like the end of the world as Downtown Los Angeles is engulfed in a huge fire pic.twitter.com/NEDvZamCvT

— Jorge d'Argence (@motoridersd) December 8, 2014
This is insane. #DTLApic.twitter.com/rDZS0lmUGz

— Prince Honor ☥ (@Pharaoh_Honor) December 8, 2014
Several trash cans in the vicinity of the building have also been set on fire, according to social media reports.
NOW: Several trash cans were seen to have been set on fire around apt buildings in the DTLA area. #LAfire@TyreeBPpic.twitter.com/f7qjS8X7di

— #ThatGuyTy (@TyreeBP) December 8, 2014
The cause of the blaze remains unknown.
You can share this story on social media: