White Americans join Twitter campaign to expose police racial prejudice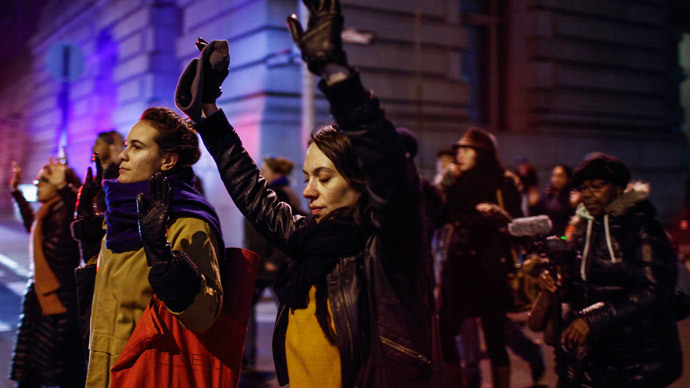 As thousand take to the streets to protest racial inequality in the US, thousands more white folks join Twitter campaign to publicly confess their sins before the law, in an effort to shatter the criminal stereotyping of African-Americans.
I assaulted a police officer after repeatedly daring him to shoot me. No charges filed. Offered to give me a lift home. #CrimingWhileWhite

— Jeremy Bursich (@jeremybursich) December 5, 2014
Once drank a beer in public, yelled at and struggled with a cop who tried to apprehend me, and was given a ride home #crimingwhilewhite

— Evandler (@EvanH93) December 5, 2014
In an attempt to expose police racial prejudice across the United States, Caucasian Twitter users spilled their wrongdoings to the world in a series of confession they have got away with that they believe African-Americans probably would not.
AMAZING: Photos from #EricGarner demonstrations in Chicago by @bkeslingpic.twitter.com/s8vJuJciWc

— Nancy Hennen (@tweetbrk) December 5, 2014
Using the #CrimingWhileWhite, some people recalled them getting away with a number of offences, including grand theft auto, driving violations, and drugs abuse.
I was going 40 above the speed limit outside Denver on my way to Colorado Springs, I got pulled over with a warning #CrimingWhileWhite

— Corinne (@Rinnyroo9) December 5, 2014
#CrimingWhileWhite after failing a sobriety test, the cop drove me home and handed the car keys to my dad with a Very Stern Admonishment.

— Rich Nichols (@_richnichols_) December 5, 2014
This social media campaign follows three recent high-profile incidents of police's lethal brutality against black men and the lack of punishment for those officers responsible. The cases involve Eric Garner who was killed by a chokehold by an NYPD officer in July, Michael Brown who was shot six times by a policemen in Ferguson, Missouri in August, and 12-year-old Tamir Rice, who was killed in Cleveland in November.
!!!!! RT @isthathoov: Preach on young god…preach on. #EricGarnerpic.twitter.com/5buwpnEaNl

— Young Huddy (@Fre5HJeff) December 5, 2014
Ran red light. Open liquor. Not my car. Expired license. Failed sobriety. Cop asked me to call someone for ride home. #CrimingWhileWhite

— Sean Omlor (@seanomlor) December 5, 2014
My car was searched and drugs were found. I got a ticket for disorderly conduct. $300 fine, most expensive bag of weed. #CrimingWhileWhite

— Crystal Delmonico (@crystallizedD) December 5, 2014