Florida judge lifts ban on feeding homeless in public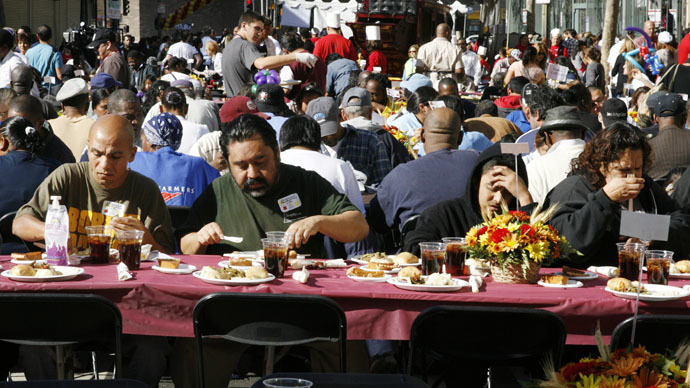 After a wave of protests and massive backlash, a Fort Lauderdale judge has temporarily suspended the city's recent ban on feeding the homeless in public places.
Broward Circuit Judge Thomas Lynch on Tuesday suspended the enforcement of the ordinance that forbids people from feeding the homeless in parks and other public places in the city. Specifically, the local law limits the location of outdoor feeding sites and requires groups providing food to supply portable toilets. The decision is valid for 30 days pending mediation, reports AP.
READ MORE: Florida police threaten arrest under new 'homeless hate law'
Judge Lynch's ruling comes in response to 90-year-old homeless advocate Arnold Abbott's lawsuit challenging the ordinance. The World War II vet and retired jewelry salesman has been feeding the homeless at the city's beaches with his group, Love Thy Neighbor, for the last 23 years.
"We're elated the judge has entered the stay," Abbott's attorney, John David, was quoted as saying in the Sun-Sentinel, Ft. Lauderdale's main daily, on Tuesday.
Ft. Lauderdale Mayor Jack Seiler has tentatively come out in support of mediation.
"We've been trying to find some amicable resolution," Seiler told reporters this week. "We hope that Mr. Abbott meets us half way. We've asked him to meet us half way in the past."
The regulation has faced widespread criticism since it took effect in late October. Sparking protests across the nation and promoting the hacktivist collective Anonymous to shut down several city government websites on Monday, the ordinance was viewed by many as unfairly targeting the city's homeless population.
READ MORE: Anonymous take down Ft. Lauderdale's site for anti-homeless laws
Last month, Abbott was among those arrested and fined for continuing to feed the homeless in the face of the ban. Reverend Mark Sims of St. Mary Magdalene Episcopal Church was also cited by the city for unlawful food-sharing. Sims has voiced support for Judge Lynch's decision.
"I'm very pleased. I think it's a great first step for the city to sit down with a more varied group of people to work out a plan so we can provide food for everyone who is hungry in the city, not just those who are in large shelters," Sims told the Sun-Sentinel.
You can share this story on social media: