Losing their minds: 100 brains go 'missing' from University of Texas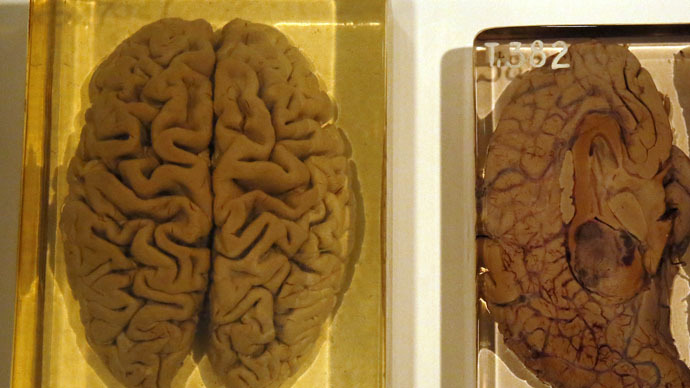 Staff at an educational facility in Austin, Texas, have been left scratching their heads after 100 brains disappeared. One may have belonged to murderer Charles Whitman, who killed 16 people at the University of Texas in 1966.
Curators at the university are ruling out a zombie invasion at the moment, saying students are the most likely reason the collection of brains - which were preserved in jars of formaldehyde - have gone missing.
"It's entirely possible word got around among undergraduates and people started swiping them for living rooms or Halloween pranks," Professor Lawrence Cormack told the Austin American-Statesman.
The mind games continue to grow with the possibility that Charles Whitman's brain could be one of those stolen.
"It would make sense it would be in this group," psychology Professor Tim Schallert said, according to the Austin American-Statesman, adding, "We can't find that brain."
100 preserved brains disappear from Texas university pic.twitter.com/4WvFMq0eKS

— 360daynews (@360daynews) December 3, 2014
Whitman is notorious for going on a campus rampage in 1966, in which he killed 16 people, including his wife and his mother. It was the worst university shooting until the Virginia Tech massacre in 2007.
The killer left a note to ask if an autopsy could be carried out to determine if he had a brain tumor. His intuition proved correct, however, it was so small that it's unlikely it influenced his desire to kill, according to some medical experts.
The brains were given to the University of Texas by the Austin State Hospital in 1986. However, under the agreement, which was only meant to be temporary, no information was given about the patients in order to protect state and federal confidentiality laws.
100 brains are missing from Texas. If found, please send to state capitol http://t.co/240LMdnnrn

— Philip Moon (@Philip_R_Moon) December 3, 2014
The university had around 200 brains in its overall collection, but only space to store 100 in the Psychology Department. Therefore the other half were kept in a basement in another building on campus, which is where the thefts took place.
The university released a statement saying it will investigate "the circumstances surrounding this collection since it came here nearly 30 years ago" and that it's "committed to treating the brain specimens with respect." It says the remaining brain specimens on campus are used "as a teaching tool and carefully curated by faculty."
Social media has had a field day with the news concerning the missing brains, with a number of users getting things off their mind with numerous ironic tweets.
Hannibal Lecter must be stocking up for the holidays MT About 100 brains missing from University of Texas collection http://t.co/U9kReZ2Han

— Lyndon Evans (@LyndonEvansFOTR) December 3, 2014
"@KPRCLocal2: The University of Texas at Austin is missing 100 brains. //// pic.twitter.com/v0npXo14At" pic.twitter.com/FG1zuFTaIA

— Dave Thomas © ® ™ (@The_Occasion) December 3, 2014
Meanwhile, to make sure the brain drain does not continue, the remaining 100 brains have been moved to the Norman Hackerman Building on campus. According to Professor Cormack, they are being scanned with high resolution resonance imaging equipment.
"These MRI images will be both useful teaching and research tools. It keeps the brains intact," he told Austin American-Statesman.