​Lawyers ask federal court to halt execution of schizophrenic man in Texas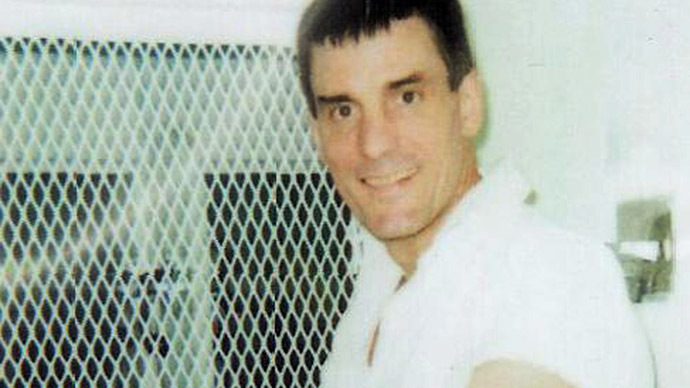 In a final effort to prevent the lethal injection of Scott Panetti, lawyers have asked the US Supreme Court to halt the Texas execution and determine whether mentally ill people should be exempt from the death penalty.
Panetti is scheduled to be put to death on Wednesday for the 1992 murders of his in-laws, Joe and Amanda Alvarado.
But his defense team believes that since Panetti's schizophrenia diagnosis in 1978 and subsequent treatment, the mentally ill patient should instead be locked away for life. Another appeal for Panetti asks for an execution delay so a new round of competency evalutions can take place. That request is currently pending before a federal appeals court.
There is "no doubt" that 56-year-old Panetti was severely mentally ill "before, during and after the crime for which he has been sentenced to death," attorneys Gregory Wiercioch and Kathryn Kase told the justices, as quoted by AP. "And Mr. Panetti's mental state has further deteriorated since his last evaluation in 2007."
"Imposition of the death penalty on people with severe mental illness, as with people with intellectual disability, does not serve the two goals of deterrence and retribution because of their reduced moral culpability," Panetti's lawyers argued to the court on Monday.
State prosecutors are adamant that Panetti is faking his symptoms; they say he is sane to a degree, as he understands that he is being executed as punishment for shooting his wife's parents to death in 1992.
While his medical records contain indications of mental illness, they "strongly indicate rational awareness of his impending execution and the reason for it," Ellen Stewart-Klein, an assistant Texas attorney general, told the 5th US Circuit Court of Appeals, AP reported. "Panetti's mental status has at best been severely exaggerated by his counsel," she said.
At his 1995 trial, the paranoid schizophrenic appeared before the court wearing a western cowboy costume, insisting that he defend himself without counsel. He shocked the jury once more when he attempted to subpoena the Pope, John F. Kennedy, Jesus Christ, and over 200 witnesses as part of his insanity defense plea.
Ten years ago, in February 2004, Texas tried to execute Panetti, but a federal judge placed the death date on hold to consider whether Panetti's execution would violate the Eighth Amendment's protection against cruel and unusual punishment. The US Constitution forbids the execution of severely mentally ill individuals who do not understand the reason for their punishment.
However, Texas continued to pursue Panetti's execution. Records indicate that his case has gone to the Supreme Court at least five times since his 1995 conviction and sentence. No court has ruled that Panetti was or is incompetent or insane. In 2013, the Fifth Circuit found him competent to be executed.
Also on Monday, the Texas Board of Pardons and Paroles refused Panetti's clemency petition for his death sentence to be commuted to life in prison, and refused to delay his execution for 180 days. This comes after the Texas Court of Criminal Appeals – the state's highest court – voted 5-4 to deny Panetti's appeal for a final time.
His landmark case has drawn attention to what mental health and human rights advocates call a profound injustice. In a final plea for justice by Penneti's sister, which was signed by more than 90,000 people, Victoria describes her brother as a "paranoid schizophrenic."
"In 1986, Scott first succumbed to the delusion that he was engaged in spiritual warfare with Satan. He became obsessed with the idea that the devil was in the house. He engaged in a series of bizarre behavior to exorcize his home, including burying furniture in the backyard because he thought the devil was in it," Victoria Penneti wrote.
The petition on Change.org created a storm of condemnation.
"It is patently wrong to execute someone with such a profound mental illness," Anna Chestnutt from the UK wrote as part of the filed online petition.
"Executing a human being is bad enough, but executing the mentally ill is simply immoral. This act proves that a politician will extinguish a human life in return for a vote. Disgusting," Tony Blanz from Idaho said.
"The entire judicial process for Scott Panetti makes a mockery of a true criminal justice system, and makes a mockery of Texas itself," native Texan Sr. Elizabeth Riebschlaeger, wrote when she signed the petition.