Amazon unleashes 15,000 hauler robots for Cyber Monday packaging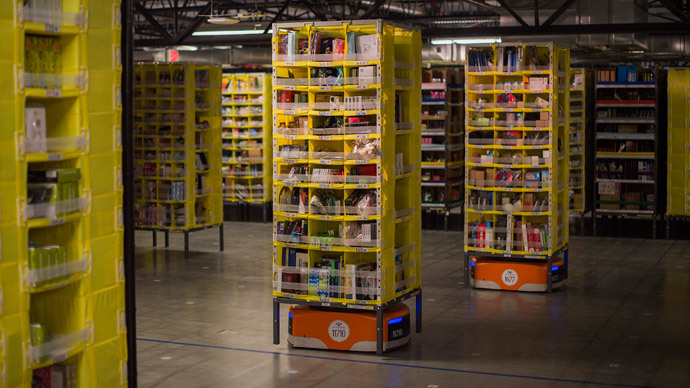 Ten Amazon warehouses in five US states are making use of 15,000 Kiva robots, hoping they can cut operating costs for the mega retailer by some 20 percent during the Christmas gift fest.
The 145-kilogram robots are produced by Kiva Systems, which Amazon bought in 2012 for $775 million.

The company showcased the technology on Sunday at its year-old warehouse in Tracy, California, a day ahead of the Cyber Monday frenzy. This facility alone has more than 3,000 Kiva carriers working along with 1,500 humans.

The robots navigate across a warehouse buzzing along rows on sensors on the floor and hauling racks with goods. Each can lift as much as 225 kilos and delivers its cargo to packing workstations operated by a human.

The system requires smaller gaps between rack rows, since the robots are smaller than people and need not as much space to pass. Deploying the robotic carriers has allowed Amazon to hold some 50 percent more items and shorten delivery times in serviced areas, the company said.
It comes at a cost, however. Amazon estimated last year that it would spend about $46 million on Kiva equipment at its warehouse in Ruskin, Florida, Reuters reported. But the company says it is glad about the decision.

"It's certainly proving out that it's justified itself," Amazon's senior vice president of operations, Dave Clark, said of the Kiva acquisition. "We're happy with the economics of it."

Amazon insists its robot employees are not stealing jobs from humans, because the company is continuing to grow.

"That growth is driving increased hiring. We continue to add employees, and no employee has been negatively impacted by Kiva coming on board," he said.

"What we've done is automate the walking element. Our focus on automation is to do automation that helps employees do their job in an easier way, in a more efficient manner."

The online retail giant also uses flying robots to deliver goods to customers' doorsteps.