Thanksgiving mess: Airlines cancel hundreds of flights as storm rips through Northeast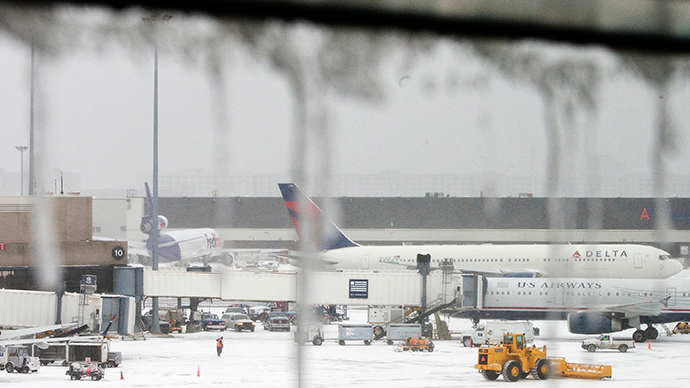 Airlines in the United States have cancelled nearly 300 flights thus far Wednesday given rain and snow along the East Coast and Appalachians. The heaviest snow through the day is expected just west of the I-95 corridor between Philadelphia and Boston.
Holiday travelers will have to deal with a storm consisting of rain, at times heavy snow, fog, and poor visibility on Thanksgiving Eve, traditionally one of the busiest days for airlines and highways across the US. The regions of New England, the mid-Atlantic, and Appalachia are expected to see the worst winter weather.
Will weather impact your Thanksgiving travel plans? Latest forecast here: http://t.co/Au9nYQQbFqpic.twitter.com/F4vubRymTs

— The Weather Channel (@weatherchannel) November 26, 2014
Ahead of Wednesday's precipitation, which is expected to continue into the night, many airlines announced they will waive fees for passenger choosing to switch or change flights to avoid the storm.
United, American, and Delta airlines waived flight-change fees at about two dozen northeastern airports, offering travelers the chance to switch flights to Tuesday or Thursday to ease Thanksgiving Eve congestion.
As of about 8:00 ET this morning, airlines had cancelled 271 flights due to winter weather, Bloomberg reported. Terminated flights are only part of air-travel headaches on Wednesday, as delays will also add to the mix.
Conditions deteriorating very fast in Poughkeepsie. @weatherchannel@StormTeam4NY#Cato#NYwxpic.twitter.com/kH8hLejlwi

— Donna Watts (@DopplerDonna) November 26, 2014
"Ground stops for flights destined for Philadelphia, Newark and [New York] La Guardia International Airports already in effect due to weather," AccuWeather reported just before 10 a.m. ET. "Flights destined for La Guardia are facing delays of more than three hours on average."
Early rain Wednesday will change to snow from northern Virginia to New England as the day progresses, according to weather reports. The interior of New England is bracing for 6 to 12 inches of snow before the storm is over, though the heaviest snowfall is predicted for north and west of Interstate 95 from Philadelphia to Boston.
SW Virginia – #Cato MT @cookmurray: first snow in the Roanoke valley. still falling. @weatherchannel@JimCantorepic.twitter.com/4muvrM5mAL

— The Weather Channel (@weatherchannel) November 26, 2014
"In most cases, the worst time to travel in the mid-Atlantic and New England due to the storm will be on Wednesday and Wednesday night," said AccuWeather Chief Meteorologist Elliot Abrams.
In the Appalachians, there have been reports of as many as 4 inches of snow thus far in North Carolina and 8 inches in West Virginia, according to the National Oceanic and Atmospheric Administration.
Beech Mountain Parkway, conditions not horrible pic.twitter.com/OE0cHRCxN8

— Sam Roback (@Weathermansam77) November 26, 2014
Meanwhile, a less severe snowstorm will brush through the Plains and the Midwest, from the Dakotas to the Tennessee Valley, as Wednesday progresses. Some flights out of St. Louis and highway travel on major interstates such as I-70, I-35, and I-29 will likely be delayed as the snow works its way east.
The number of air passengers in the US is expected to hit a high level unseen since 2007, with as many as 3.55 million, a 3 percent jump from last year, according to AAA.