​Western New York braces for flooding after record snowstorm (PHOTOS, VIDEO)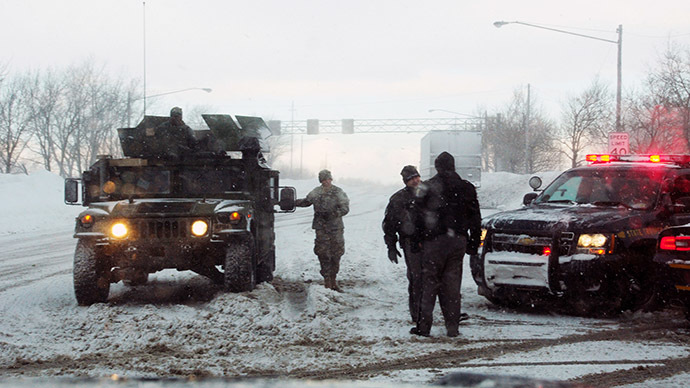 After a huge snowstorm struck the state of New York covering it with up to 2 meters of snow it took emergency services several days to clear the mess. Now authorities fear the melting snow could cause major flooding in the area.
More than 775 members of the New York National Guard were deployed in Erie County and Buffalo on Sunday to help emergency workers with flood prevention operations, Reuters reports.
The National Guard deployed two helicopters and 20 high axle vehicles for driving through flood waters, along with numerous dump trucks, tractor-trailers and airfield-grade snow-removal machinery.
Last Tuesday was registered as the coldest November day since 1976 with all 50 states suffering freezing temperatures. Thirteen people died in the aftermath of the record fall that buried roads and homes in up to 2 meters of snow.
READ MORE: Worst in memory: Ferocious cold 'thunder' snowstorm sweeps through US (PHOTOS, VIDEO)
Over the weekend the National Weather Service has issued potential flood warnings, saying that with temperatures across the affected area expected to stay above melting level until Monday, at least minor floods are "imminent."
The state had prepared in case of widespread flooding, New York Governor Andrew Cuomo reassured the public, saying that hundreds of pumps and tens of thousands of sandbags were ready.
Government offices and schools however are expected to be open on Monday, Cuomo said.
"We are sending teams of structural engineers in to inspect any school that might have the potential of a structural problem," he said. "We hope to get back to business on Monday."