#ThanksMichelleObama: US schoolkids take to social media sarcasm over healthy eating plan
Published time: 26 Nov, 2014 14:39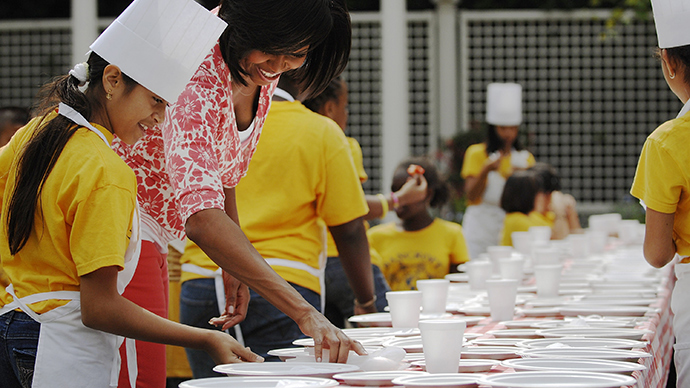 A school healthy eating drive by First Lady Michelle Obama has spectacularly backfired. Angry kids across the US have taken to social networks with the hashtag #ThanksMichelleObama to show just how bad they believe their new school meals are.
The government-backed health initiative from 2012 was aimed at cutting obesity in the US by reducing the amount of sodium, sugar and fats in foods served at schools. It required that more fruits, vegetables and whole grains be put on the menu in order to foster a healthier lifestyle.
The study, by the Centers for Disease Control and Prevention stated that since 1980, the prevalence of obesity among US children and adolescents has tripled, and today 19.6 percent of children aged six–11 and 18.1 percent of adolescents aged 12–19 years are categorized as obese.
The hearts of the organization were certainly in the right place in trying to provide healthier meals. Unfortunately, in some cases, the end product left a lot to be desired.
My son's "lunch". #ThanksMichelleObama He didn't eat that slimy excuse for edible food pic.twitter.com/6WGFplZpf0

— Mimi (@Mimi34xo) November 26, 2014
It is difficult to tell what the above item of food contained. Though the green specks do look quite worrying. What was equally worrying was this was a far from isolated incident, with Twitter becoming flooded with irate and hungry schoolkids.
Just a small disclaimer: you may not want to eat your lunch while looking at the photos tweeted below.
#ThanksMichelleObamapic.twitter.com/ceL3eLPJDJ

— SirMykel Evans (@SirMykelE) November 26, 2014
Teens are sharing pictures of their sad school lunches with the hashtag #ThanksMichelleObama. http://t.co/72dZsg2KFdpic.twitter.com/Fel3B87ZEY"

— Todd Johnson (@nodaktodd) November 26, 2014
I think someone got some pizza on my grease. #ThanksMichelleObamapic.twitter.com/4qXEIJHYfI

— ** Savannah Star ** (@Savannah___17) November 26, 2014
#ThanksMichelleObamapic.twitter.com/q8aj0nB0aY

— Leisha ✈❤ (@lcharming_) November 26, 2014
Writing a column in the Wall Street Journal in February 2013 about the importance of providing healthy food for children, Michelle Obama said, "I have never been more optimistic about our prospects for solving this problem. And I am confident that, with leadership from America's business community, we can give all our children the bright, healthy futures they so richly deserve." However, the first lady may have forgotten that although the food maybe healthy - it must also be edible.
#ThanksMichelleObamapic.twitter.com/JLIKXQDBgn

— Sam Wade (@samwade35) November 26, 2014
Although she may have alienated millions of kids across the country, Obama did get some backing. The Center for Science in the Public Interest, a Washington advocacy group that has lobbied for the healthier lunches, tried to give her some moral support, showing pictures of kids eating healthy salads under the same hashtag.
"Even if the lunches were super unhealthy, there would be kids who would complain," said CSPI's Margo Wootan, as cited by AP.
The school meals program is overseen by the United States Department of Agriculture (USDA), which stated the vast majority of the photos are made to look worse than they actually are.
"Students are always provided full servings of both fruits and vegetables as well as protein options, so clearly many of the photos posted do not fully reflect the full range of choices students are provided," said USDA spokesman Cullen Schwarz.